COVID-19, without any doubt, has put a strain on every niche and variety of business and the hair salons and barbershops are no exception. The government had taken the initiative to close these down amid the rising cases. Many of them had been ordered to close at certain hours following the government's compliance in effect with Coronavirus Pandemic.
Whether you are in the US, the UK, Europe, India or anywhere else – the question occurs; is it safe to get a haircut in the COVID-19 Pandemic?
---
Getting a haircut during COVID
Well, all restrictions aside and the current seriousness of the Pandemic, Yes, you can go out for a haircut in these trying times but not without applying some safety to yourself and the environment around you.
The first thing you need to do is make sure that all the safety measures are taken and concerned protocols are in place in the very hair salon or barbershop you are about to go to for a haircut.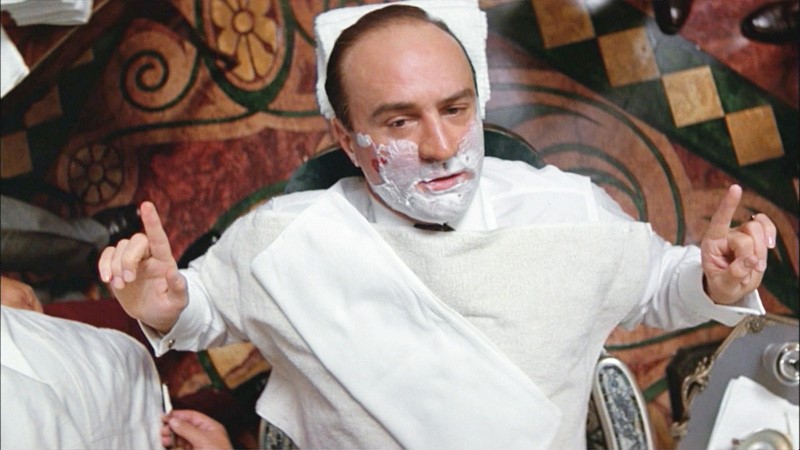 If not, then you need to back off and look for other potential places that respect these guidelines and have necessary protocols in effect. You can try the following things for maximum protection and looking out for your well-being;
---
Make an appointment instead of a walk-in
Before these trying times, walk-in was as good as making an appointment because you did get the service anyhow as someone did skip their appointment, so you would get compensated.
But now you have to be a lot more careful as the gathering is not an option because of the spread of the Pandemic in highly dense and populated areas, so instead of being a walk-in customer at your factories' beauty salon barbershop, you should be making an appointment.
All the hair care and beauty places are well-acquainted already with the fact that they can only adjust so many people which they can cater to provide all the necessary safety proctors amid COVID-19.
So, it guarantees not only your safety but also the safety of those around you. If you are still thinking; is it safe to get a haircut during COVID-19, then make an appointment, get a nice slot that doesn't include other people at the time, and it will be all good.
Comment and let me know if you would like a list of good barbers in your city in the US or anywhere else.
---
Ensure that people wear face masks and gloves
The best way to get a haircut during COVID is if you can arrange for it in your home or ask one of your friends or family member whom you trust are not exposed as much to give you one. But if nothing works out in your favor and you have to go to a salon or barbershop, make sure that everyone there strictly follows the safety protocols, i.e., wearing masks and hand gloves at all times. Because let's get that straight COVID-19 spreads when contact takes place, and thus it is paramount that everyone wears a mask and use gloves as the best practice to evade such scenarios.
If the staff is not sticking with these protocols for your own good health and safety at your likely place, it is recommended that you go somewhere else where all these safety protocols are upheld.
---
Wear your mask through the haircut
Because your barber or stylist will be in your close proximity at all times when having a haircut, that is why it is important that you and your stylist wear masks at all times. Many people might have a question about how to wear a mask during a haircut?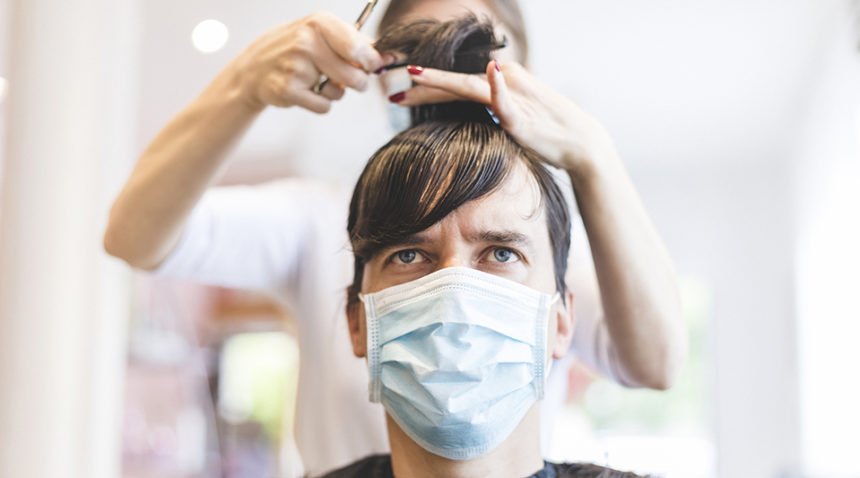 Well, the answer here would be the way you put it on during other scenarios, on your face covering your mouth and nose properly. The context of the question is annoying because what people are trying to ask is how they can keep on wearing the mask through a haircut, as it gets pretty suffocating for some.
Shouldn't they be laying off of it? Well, not they shouldn't, and the reason is that only wearing your mask and keeping a safe distance can slow the spread of the COVID-19 Pandemic.
If by any chance, the stylist or barber that is attending you is not wearing their mask or not maintaining an expected safe distance while cutting your hair, then you must speak up and not be afraid of doing so.
---
Having a shave and the sanitation that is involved
When it comes to having a shave, you must try to have one in your home and by yourself, as when in a saloon or at a barber's, you will have to remove your mask, and this might lead to breaking the safety protocols intended for COVID-19.
So, how to have a safe shave during COVID? Well, try doing it at home, and if you have to do it in a salon or barbershop, then there is nothing that can be done except losing your mask until it is done.
If it comes to that, then make sure that at least the person giving you a shave is wearing theirs and using gloves to avoid any chance of coming in contact with any surface on you.
---
Is it safe to get a haircut during COVID-19?
Is it safe to go to a hair salon during COVID-19? Yes, it is, if the equipment that is used to give you a haircut or a shave must be clean and sanitized properly with dedicated disinfectants just to be safe. Although it is better if the saloon you are going to visit can use the recyclable razors, combs, and scissors just in case, these can be discarded after they have been used. This will make sure that these are not used more than once on people and can help contain the Pandemic in the best possible way.
All the details mentioned above make it very clear that you must not lose focus of your or someone else's security. The question that; is it safe to get a haircut during COVID-19 also gets answered here, so yes, you can visit your salon or barber for tending to the maintenance of your hair and their grooming, but you must know that you have to keep your distance.