Christmas is closing in on us, and if there's one gift men love on this occasion – it's a complete men's grooming kit. Are you here to seek advice as to which Gillette gift set should you go for? Or perhaps, you'd like to see which other brands are now competing against Gillette to be "the best" Christmas shaving gift set.
One thing's for sure – men's shaving products have seen more evolution than Taylor Swift's choice in men. Over the past decades, it's almost as if a new product pops up with a blink of an eye. I understand how difficult it can be to cope up with these changes, especially when White Elephant games can keep us on our toes.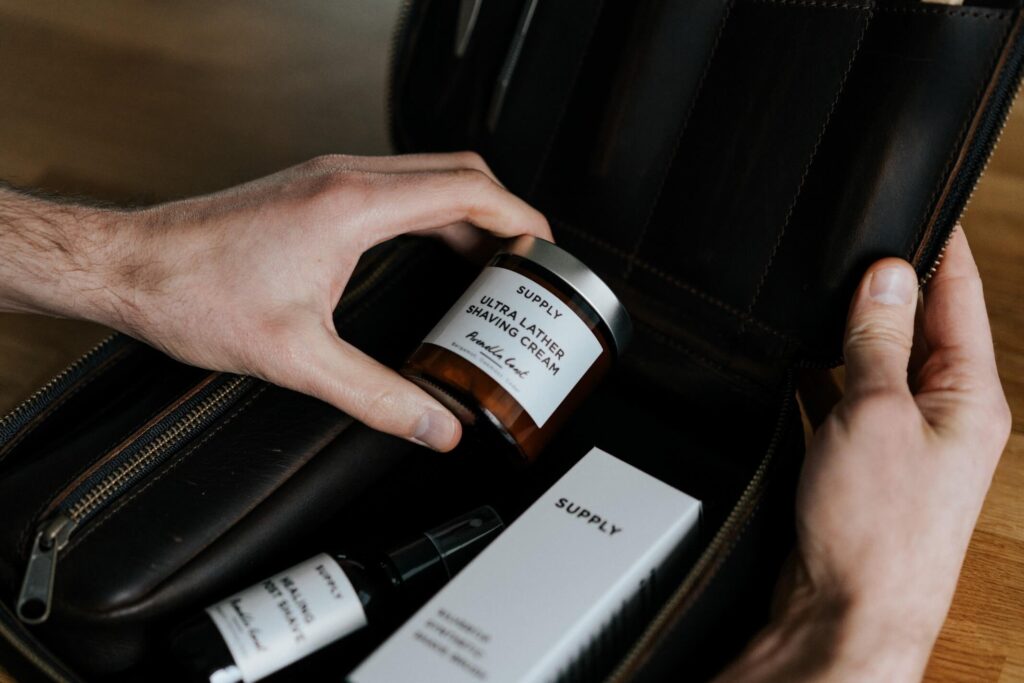 ---
Is a Shaving Gift Set for Him A Good Idea?
Traditionally, all men required were shaving cream, a shaving brush, and an efficient razor. That's all – and they'd last for ages to come. However, with time and changes in mustache and beard culture and style, the needs of a common man have only drastically increased.
From shaving oil, aftershave, a good moisturizer, shaving cream, and a good set of razors – the list is just never-ending. It's safe to say there is no limit to the ever-growing need for shaving products. Whether the guy you're gifting this to loves to shave and rock a clean-shaven face or maintains it well with a shave here or there – a shaving gift set is the only thing he'll ever need.
Instead of strolling down one aisle after another in a supermarket or online, you should go for a men's shaving kit Christmas Gift. Help him eliminate the headache of going back and forth for products once and for all. Not to mention, a package is going to cost you much better than buying individual items on the shopping list.
So, are you looking for mind-blowing Christmas gifts to surprise your hard-working father, husband, brother, or a friend? Nothing better than men's grooming kit gifts with all their favorite products inside! You're helping them play around with brands, try out different products, shaving routine, and what works best for their skin – what a gift!
Down below, I will be talking some of the best shaving kits that can serve the purpose of a lovely "Men's Shave Kit Christmas gift"! But before we move on – there's one small discussion left.
---
What Are the Essentials That Complete A Men's Shaving Kit Gift?
Every guy has different needs when it comes to shaving products. There is no general consensus on what an ideal shaving kit must include. However, amidst all the disagreements and disputes, there are some essentials that should be present in your kit at any cost.
With the products I am going to discuss, a clean and smooth shaving routine is guaranteed. That is literally every man's dreams – to not head out to the barber for a shave every now and then. Shaving kit sets can also be complemented with other options if the guy has other needs he'd like to meet.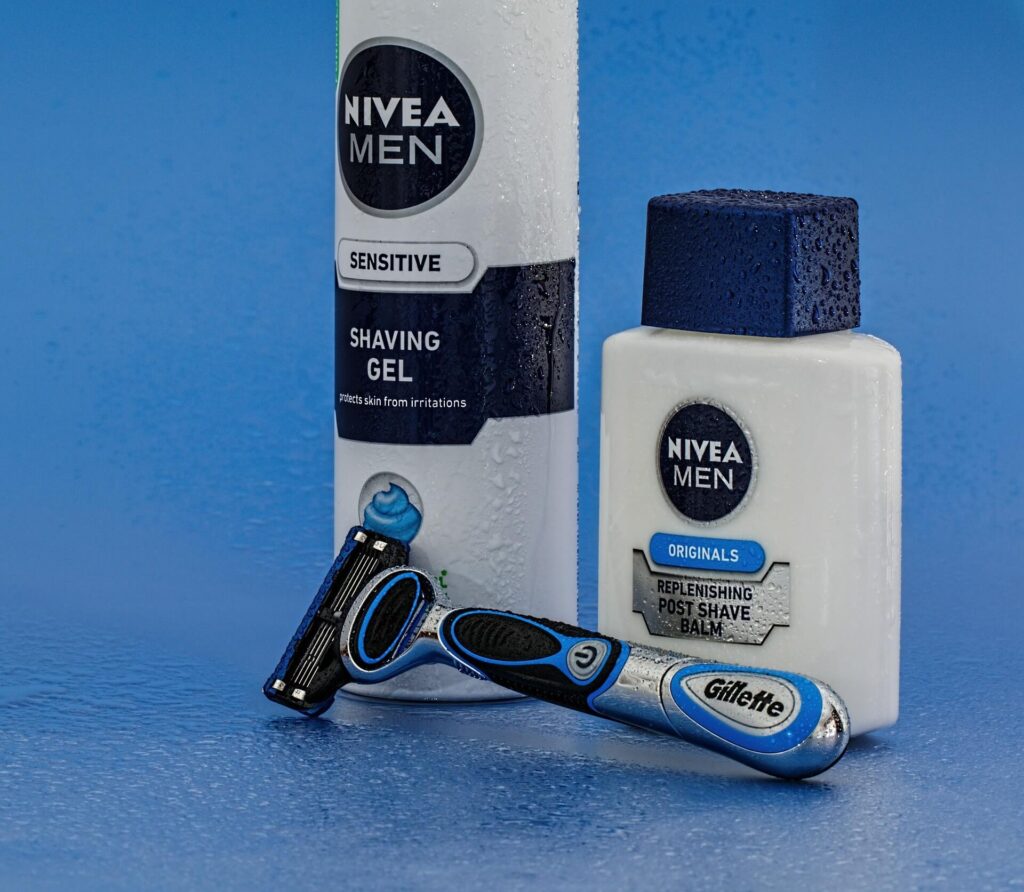 I have compiled a list of shaving essentials that can never be written off from the list of products required in a shaving kit:
A razor that can last you for a good period of time
A suitable lathering agent for your facial hair and skin
A not-so-harsh-on-the-skin shaving brush
A pre-shave oil or lotion for a soft shaving finish
An anti-bacterial aftershave lotion or balm to take care of your skin
As a bonus, you can add:

An aesthetic and practical shaving stand

A shaving bowl to whip up a nice foamy lather

Travel bag to carry all the essentials

Electric scissors or trimmers
Now that you're in the clear on what a men's shave kit Christmas gift should have – it's time to unveil the big surprise!
---
Top 10 Men's Shave Kit Christmas Gifts To Surprise Him
Let's get right into reviewing the ten best Christmas shaving gift sets in 2022 that will be the best surprise for your man:
---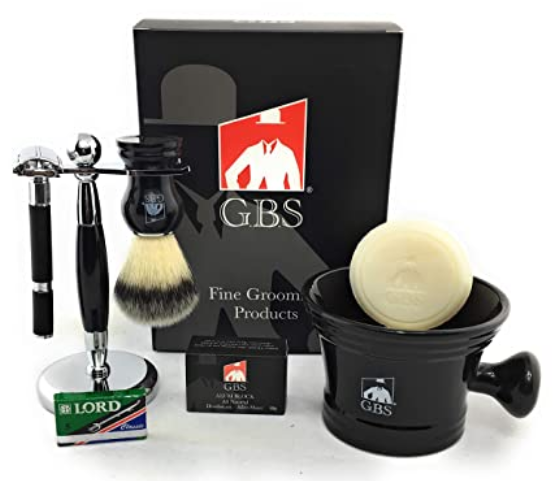 My first pick from the lot is this 5-star GBS Men Double Edge Razor Shaving Set I found on Amazon, that ticks all the boxes of the best shaving gift set for him. This cohesive shaving set includes every necessity that a man requires in the shaving kit of his dreams.
From the perfect looks and aesthetics of this kit to quality products, this is not a shaving kit that you would want to miss on as a gift for your beloved male figure in the house.
I'm personally putting this up in the front because I love how amazing this purchase was for me. With a black rubber-coated non-slip safety razor, a bar of natural soap, and a stylish black mug along with it – it's just perfect. I must've forgotten; it also comes with a 100% naturally synthetic and animal-free vegan brush to top it off. It also features a stainless black brush and razor stand to display your shaving kit on the washroom rag, and an additional bonus of 15 DE blades pack to last you a long period of time.
---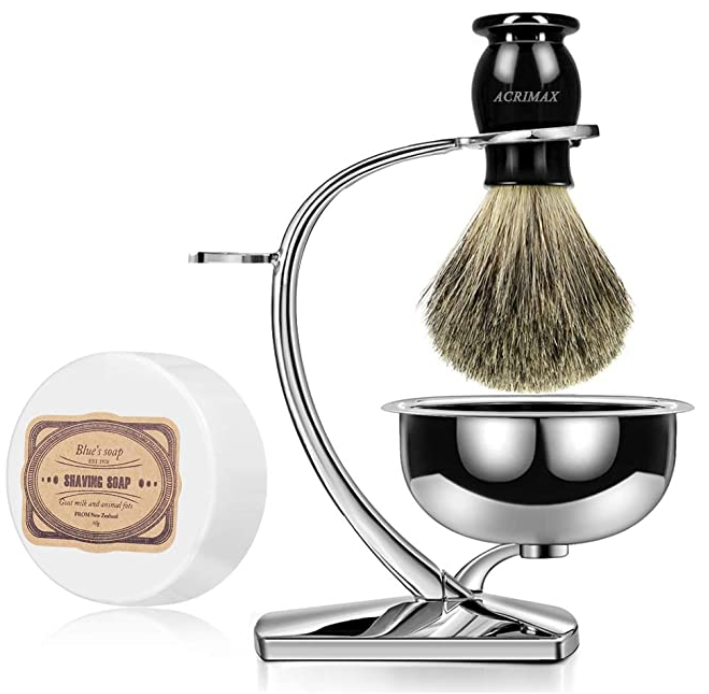 Following the best of the bests, my second top pick for the men's shaving kit gifts is this ACRIMAX Luxury Shaving Kit For Men. This one is for all our minimalist fans out there who desire nothing more than a good shaving brush, a foamy and skin suitable skin soap to complete their routine.
It also comes with a brush stand to carefully and aesthetically display the brush on countertops where it stays dry and easy to use every time you desire to pick it up.
If you already possess a razor and other shaving necessities and are only out on the look for the above-mentioned things to complete your kit, then this will be the right pick for you.
The featured kit includes a 100% pure badger brush which works smoothly on the skin but has hard bristles to whip up a foamy lather, a stainless shaving razor, a stainless-steel luxury shaving soap bowl, and a fresh scented and all-natural milk shaving soap. Do not take the chances of missing this one and order it right away to surprise your male friend with a zinger!
---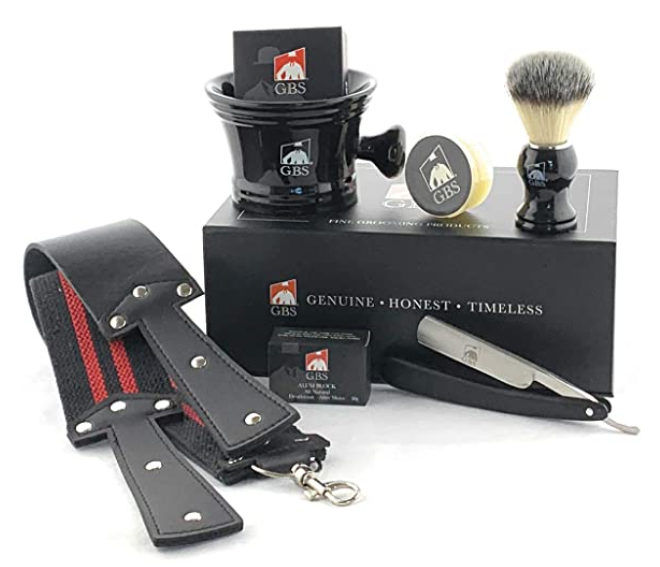 My third pick for a review is this GBS Shave Ready men's shaving kit, which is made for the lovers of old-fashioned wet shaving. Featuring an old fashioned and traditional wood straight razor for all the individuals that are keen on getting a clean-shaven-barber-style look.
It features a stylish black shaving mug to whip up some thick foamy lather, a fresh-scented soap, a soft fiber brush that works the best for foaming up the lather on your face and run the blade smoothly on the facial hair, and a natural mineral salt Alum Bloc to deal with aftershave cuts and burns.
This is a full-fledged shaving kit for men that desire a traditional shaving routine every now and then. Have a traditional shave lover at your place? Then you definitely don't want to miss out on this kit at all.
---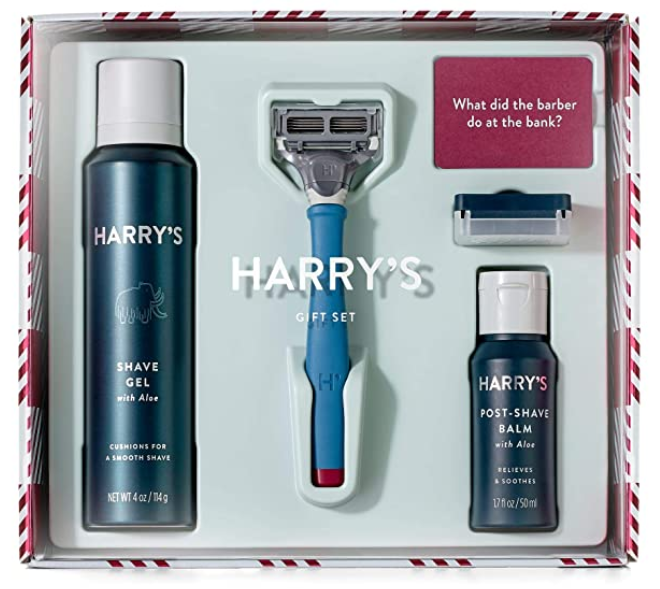 One of the best gifts you can pick for a man is a high-quality and efficient shaving kit that contains all the essential products of a men's beard and mustache shaving kit. While talking about one of the best men's shaving kit gift, there is no chance that I can miss this product by the brand Harry.
This is something you cannot afford to miss if you're looking forward to acing that gift for your male friend. The box comes with Harry's razor handle blade, a foamy and skin suitable shaving gel, and a post-shave balm to take care of all the razor cuts and burns.
I love the post-shave balm with this product the most – not saying others aren't just as top-notch – but this balm just stands out to be the best. Get your hands on this one as soon as possible before the Christmas shopping begins, and you miss on this chance.
---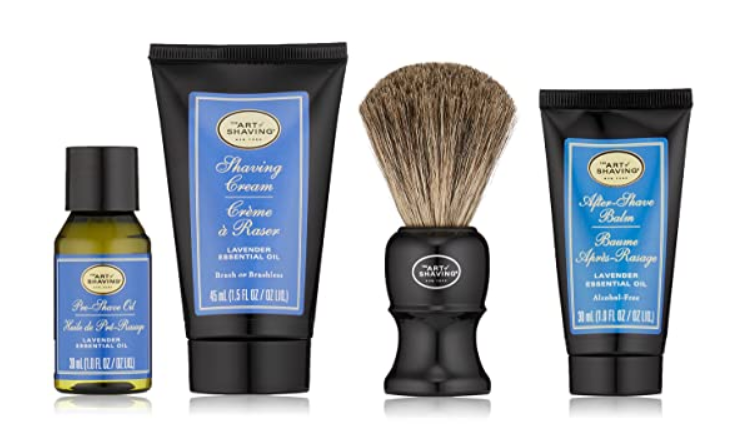 Our previous men's shaving kit gifts for Christmas include everything – brushes, razors, mugs, and much more. Now, let's shift to feature some shaving gel and lotion kits for people who have already picked their razors and could use some good quality products to add up on their shaving collection.
If you are someone like that or know someone who could use a gift like this, then this product will definitely be the best choice for you out of the lot. 'The Art of Shaving Lavender Mid-Size Kit for Men' includes four elements of the perfect shaving experience in travel or mini gift size.
From a mini shave gel, a creme and rose shaving cream, a luxury shaving brush that is soft on the skin, to an antiseptic aftershave balm. This men's shave kit Christmas gift might not be outclassing others but has everything that a man needs while traveling around the country in style and comfort.
---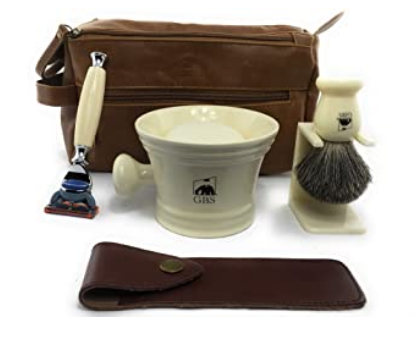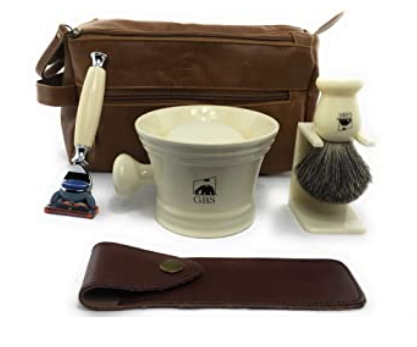 What serves as a more appropriate gift for men than a full shaving kit along with a travel toiletry bag? More like a dream come true for all the frequent travelers.
This GBS Men's Deluxe shaving set includes a chrome tip, ivory handle, and a precision trimmer five-blade razor, a wide-opening shaving mug with a knob handle, a pure-badger shaving brush that whips up the foamiest lather on the skin, and the most comfortable, accommodating, and all storing light cognac color toiletry bag that is the best fit for all the frequent travelers out there.
If you have a friend who loves to travel with light stuff, this is something you need to gift him. Do not miss this amazing chance and order it right away to be the first one to ace your White Elephant gifts this Christmas!
---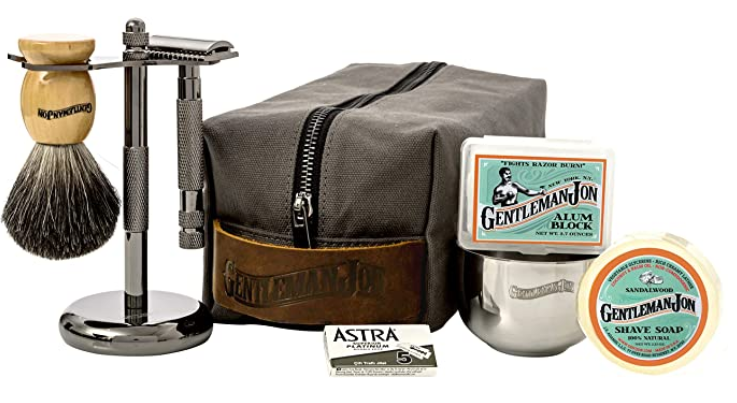 Looking for a complete men's shaving kit at the best quality and price to surprise the best men in your life? Then this kit can be the perfect fit for you. The Gentleman, Jon Deluxe Wet Shave Kit, includes a total of eight best shaving elements – a single-blade-barber-quality-razor that will give you the best shave, a 100% black badger hair brush that enables the smoothest shaving finish, and so much more.
Stands, Alum Bloc, soaps, bowls, blades – what else can you require? This is perhaps one of the only complete men's shave kit Christmas gifts on our list. Along with that, the kit comes with a canvas on the front and leather handle Dopp Kit that will enable you to take your shaving collection on the go!
---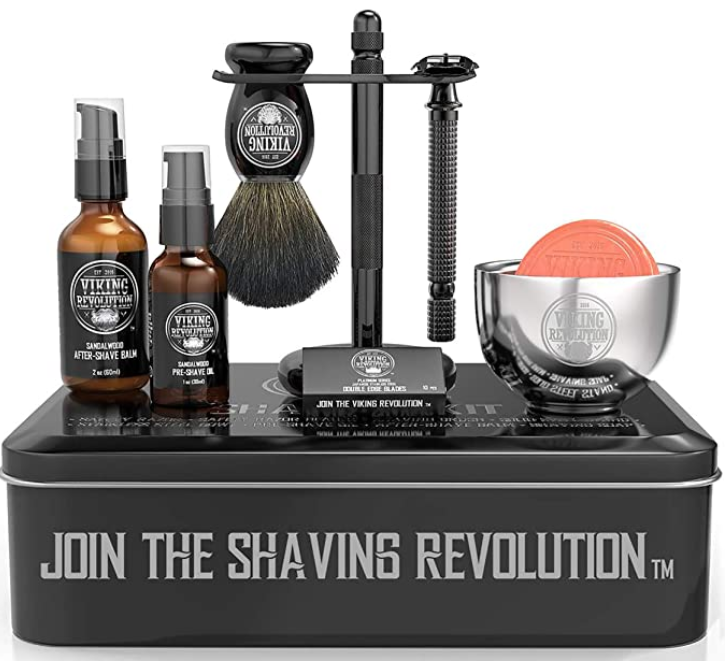 What prices start strolling in your head with the word 'luxury'? Luckily, this 5-star shaving kit isn't luxurious in its pricing, but the value it provides? Mind-numbingly awesome! I'm not going to lie, this is one of my personal favorites as well, and I wouldn't recommend you miss this excellent shaving gift set for him.
This entirely complete shaving set includes a luxury razor with ten additional razor blades, a black shiny safety razor and brush stand, a silver shaving bowl that is used to lather up the best foam for a smooth shaving experience, a soft shaving brush, a natural shaving soap which will whip up the best lather to smoothly glide the razor on your facial hair, a pre-shave oil to open up your pores and soften your facial hair, and a moisturizing and antiseptic aftershave balm to take care of your cuts and burns.
To summarize – this has everything you can ever desire from in men's grooming kit gifts.
---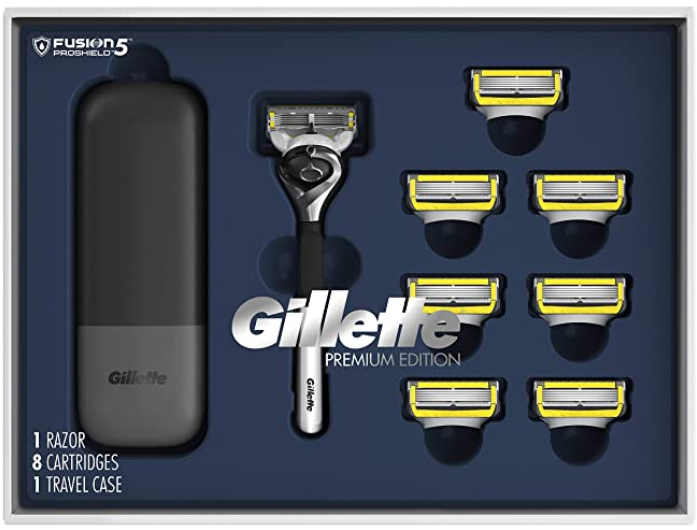 What's better than a good ol' Gillette gift set to wow your man with? This men's shaving kit is the best for traditional shaving fans who need nothing more than a good Gillette razor; some blade refills to last a while and a razor handle that makes the best shave possible.
Ah, only to add the cherry on top – Pure – the shaving Gillette cream that contains 0% alcohol, parabens, dyes, and sulfates, and includes aloe that is the best antiseptic and works like magic for skin softness, and a razor with precision trimmer razor for men.
Mark my words, ladies and gentlemen – there's nothing safer than playing a Gillette gift set as it can never go wrong!
---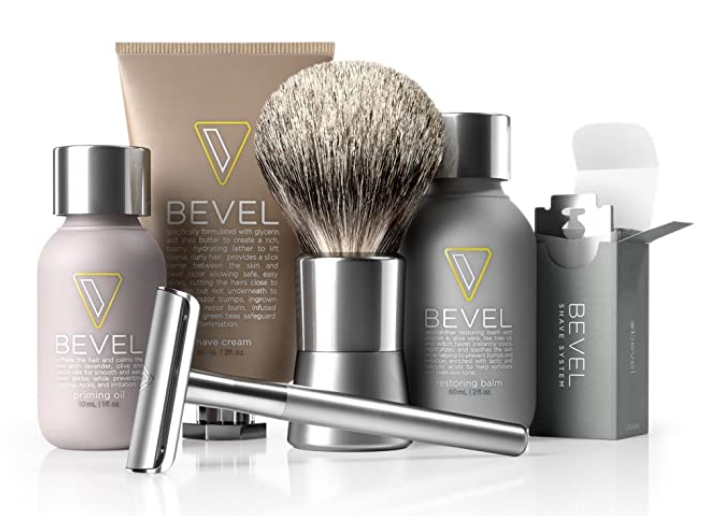 Bevel Shave Kit for Men is a simple product you can gift a male from your beloved friends and family. This men's shaving kit gift includes a safety razor that helps in avoiding razor bumps and irritation, a triple-action Bevel badger shaving brush, a priming oil that is best for preventing bumps while shaving, Bevel's very own shaving cream comes with a high aloe-vera concentration, with is paired with its ever-amazing aftershave lotion.
Bevel doesn't strike very high in terms of being but does the job extremely well, and the packaging is amazing too – makes it actually look like you're going to gift it to someone on Christmas!
I can hear the bells ringing – is the gift ready?
---
Final Words: Picking the Best Men's Shave Kit Christmas Gift
This concludes our list of some of the best men's shave kit Christmas gifts. If you have been able to find the perfect gift in the long list of kits or something that you can gift the beloved men in your life, then what are your waiting for? Go ahead and order the kit right away from Amazon.
Couldn't pick one out? How about making a small checklist? Cross whichever things you love and then try picking out products. I'm sure you'll definitely find the right one for your male friend.
Hope this list of shaving kits prove to be as useful for you this Christmas as it has been for my family and me!