A razor is bladed equipment used to remove the body hair through shaving. Common types of razors include – straight, single edge, double edge, injector, electric, cartridge, etc. This article mentions the best injector razors available in the market.
Injector blades get stored in an injector device and are touch-free. The blade feeding mechanism inserts a new blade into the razor while ejecting the old one. The main intention is to lower the chances of injury when shaving.
Injector razor blades are thicker and stiffer compared to multi-blade and double-edged razors. They are fast and easy to handle without directly laying hands on them. Also, they are safe and better for the environment. It comes with a traditional classic design and is affordable.
Injector safety razors are available in both antique and modern manufacturing designs. A wide range of specialized injector blades is now available in the market for professional barber use.
Top 5 Best Injector Razors
The best razors on the market are injector razors. They offer a close shave, allow you to buy blades separately, and make it easy for you to lather up. Here are the top 5 best injector razors.
1. Schick Hydro Skin Comfort Dry Skin with Flip Trimmer
Schick is the oldest injector razor manufacturing company. Injector razors were introduced in the market by Schick in the 1920s. Schick was the first company to develop such creative and safe designs. It gave tough competition to double-edged razors.
Specifications:
It has a rating of around 4.7 stars, reviewed by approximately 14000 customers.
It has got labeled as Amazon's choice indicating that the majority of the customers were satisfied.
It is available at approx $25.99 on Amazon.
It contains five blades, a flip trimmer, and 12 refills.
The shelf life of razor blades is approximately one month.
It gets manufactured in the USA.
Shave 3-4 times a week to get the best results.
Achieves precise and effective shave
Key Features:
Provides comfort
The cushion gel pool contains coconut oil which lubricates the skin. It lowers unwanted friction and avoids bumps on the skin. The in-built trimmer blade helps to shave the tricky areas of the face, like nostrils edge and around your lips.
Offers protection
The five razor blades shield the skin and prevent rashes after shaving. It will leave your skin smooth and lower the irritation after a shave. It is suitable for those who have sensitive and dry skin.
Shock absorb technology
The unique mechanism of the razor auto-adjusts the pressure on contact with your skin. It will abstain you from exerting excessive pressure while shaving.
Suitable for dry skin
It is dermatologist-tested and ideal for those who have sensitive or dry skin.
2. Gillette Trac II Twin Injector Razor
The twin-blade shaving system got launched by Gillette in 1971 and is still popular today. Gillette injector cartridge razors are great for touch-up and are high in demand.
Specifications:
It has a fabulous rating of 4.7 stars and got reviewed by roughly 2100 customers.
Being Amazon's choice, it is a highly recommendable product.
It contains ten refills cartridges.
It is available on Amazon for $18.99.
Key Features:
Lubrastrip ensures a smoother and close shave. It prevents skin irritation, redness, and razor burns.
The twin blades produce a soothing glide through the skin providing a great clean and comfortable shaving experience.
The in-built loading mechanism ensures quick and easy swap of blades. It is a sliding injector razor that glides through the skin. Move the razor lightly across the face and neck, and reload.
It is preferable to apply Gillette's gel or shaving cream for the best results.
3. Supply 2.0 Single Edge Razor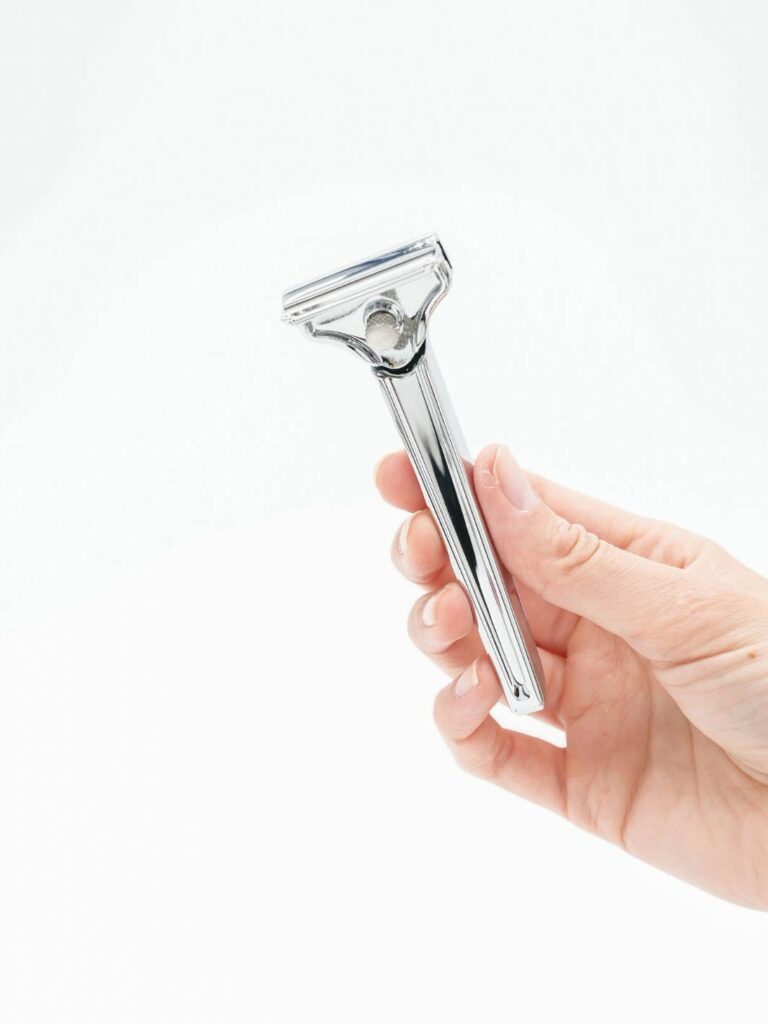 Specifications:
It is available at $75. Though expensive, it is a worthwhile investment, providing long-term benefits.
It helps in cleaning the facial hair thoroughly without missing any spots.
85% of buyers who bought this product have rated it five stars. The positive reviews indicate that it offers a great customer experience and worth buying. Many prefer single-edged razors over electric or double-edged razors (as per the reviews).
The company offers a lifetime warranty.
It is suitable for all skin types- oily, skin, normal or dry.
It comes with a ninety-day supply and contains eight blades.
Each blade lasts about 8-10 shaves.
Apply quality shaving cream to protect your skin from sharp blades and smoothen your skin.
The razors accept non-proprietary (generic) injector blades.
Key Features:
Safe injector cartridge
Its loading mechanism is similar to that of Schick. It is easy to swap the blades with maximum safety. You can load the blade without touching and hurting your fingers. It shields your hand from the sharp blade cutting edge.
Customizable settings
The razor has three unique custom shave settings- comfortable, ultra-close, and sensitive. You can change the settings within a few seconds. Keep experimenting with different settings until you discover the optimum shaving intensity that works best for you.
Choose a sensitive setting if you are a beginner or your skin is sensitive
If you have substantial experience in shaving and want a close shave, switch to comfortable settings.
You can adjust the blade angle and exposure according to personal needs and desires. Select setting #1 for the mildest shave (minimum blade gap) and #5 for aggressive shaving (maximum blade gap). The purpose is to accommodate variation in skin type, preference, facial hair thickness, and experience level.
It protects the skin from rashes, bumps, inflammation, and irritation.
Material
Razors are available in die-cast zinc alloy or 100% solid stainless steel.
The blades are twice as stiff and thick as standard, modern, and vintage injector razor blades. It stays sharp for a longer time, ensuring a perfectly close shave. Thus, you will get a clean and efficient shaving experience.
Offers precise shaving experience
Modern design razor cuts your facial hair below the surface of your skin.
Contrarily, the single edge razor prevents annoying ingrown hair by cutting the hair at the surface of the skin. It ensures that each strand of hair grows naturally.
How to use it?
Hold the razor by the handle and place the key from the blade pack into the head of the razor's slot. Press the slider towards the razor to inject the blade.
Place the razor's head flat on your cheek with a cutting edge towards the ground. It will help in determining the perfect angle for effective shaving. About 10 to 15 rotational degree angle might be suitable.
Stroke the razor's head softly through the skin. After the blade makes contact with the skin, carefully rotate the handle downward to begin cutting the hair.
4. Injrzr Parker Adjustable Injector Razor
Specifications:
The pack includes one Parker standard injector blade.
The razor handle got manufactured of stainless steel.
It weighs 35 grams and is 4.96 inches long.
Each blade may last up to 4-6 shaves, depending upon your skin type.
Key Features:
Avoids inflammation
The razor provides a clean and close shave. It prevents itching and rashes on the skin. Parker's single edge injector razor leaves fewer ingrown facial hairs in contrast to electric or multi-blade razors.
Customizable settings
You can adjust the blade angle according to your desires and requirements. You can lower the setting for a mild shave and use a higher one for aggressive shaving.
It is easy to operate the blade loading system.
Tips to get best result:
Moisturize your skin with rich shaving cream. It will guard your skin from sharp blades and reduce the inflammation on the skin.
Use a shaving brush to raise your facial hair and spread the foam throughout.
Do not exert too much pressure while using the razor. Slide the razor gently across the skin with caution to avoid injury. Place the razor's head flat against your skin with a 10-15 degree angle.
5. Shave Classic Edge Razor Handle with 1Ct. Schick Injector Razor Blade Refill
Specifications
It weighs 0.32 ounces.
It is available on Amazon at $22.99.
It is compatible with Schick injector razor blades. Schick is a renowned and popular brand offering superior quality products.
Overall ratings by customers are 4.1 stars.
It is durable
Key Features:
Provides a clean and comfortable shave without causing itching.
There are mixed reviews. Few customers reviewed this product as original good quality, while some claim it as an inferior quality product.
The injector contains a slot to dispose of the used blade.
It is a precise tool for sculpting a beard.
It has aggressive blade exposure. There is no option to adjust the settings for getting a mild shave.
Schick Blades
Schick blades are stainless steel to resist corrosion. It gets electronically metalized with polymer and chromium coating.
They are the best investment and offer a superior shaving experience.
You can purchase it on Amazon at $20.95.
It contains four packs with seven blades each- total of 28 blades.
The blades stay sharper longer and provide outstanding performance. But may not be as smooth as modern razors.
It has received excellent ratings of 4.7 stars from customers. Most of them are very satisfied with the product.
Final Thought:
Although injector razors are not as popular, companies create razors that utilize injector blades. Injector razor works better on thicker facial hair and provides exceptional stability when shaving. The injector blades last for a long time.