The proper selection of shaving cream is necessary to get a smooth shave. It is the essential ingredient in your shaving tool kit. Besides all this, if you want a good and clean shave, then shaving cream is also essential, same as the sharpness of the blade. Cream plays a vital role in shaving because it creates a barrier between the razor blade and your skin. To avoid the burning effect, choosing menthol shaving cream is a wise decision. There are many benefits of using menthol shaving cream, such as:
It provides a cooling effect
Menthol shaving cream has anti-inflammatory benefits
So, according to dermatologists, you can reduce the risk of redness by using menthol shaving cream. Now the question is, a wide variety of menthol shaving creams are available in the market; which one is correct? Don't panic; we are here to guide you about the top 5 menthol shaving cream.
Top 5 Menthol Shaving Cream
Shaving cream helps to reduce the chances of razor burns. It can also avoid ingrown hairs. The selection of shaving cream may be a challenging task. You have to understand your skin needs before purchasing the right product. After the extensive research below, we have mentioned the top 5 menthol shaving cream for you. Please don't skip any section and keep reading the details of each one!
1. Dettol Shaving Cream
If you want a smooth shave, Dettol's cool crispy menthol shaving cream fulfills this desire very well. Its creamy formula softens the beard and protects you against any cuts and infections. Some of the benefits of this shaving cream are mentioned below:
It provides you refreshing, comfortable shave
Dettol shaving cream produces the creamy lather that assists you in getting a clean and smooth shave
Reduces the chances of nicks and razor burns
Dettol shaving cream is much better than any other shaving cream. It assures you against germs protection.
2. Lilium Shaving Cream
It is formulated with Lilium fruit, lemon, tea tree oil, and menthol. It is the best choice if you have oily skin and acne problems. Tea tree oil helps to control the oil on the face. There are many advantages of using Lilium shaving cream. Some of them are mentioned below:
It gives you the best refreshing experience
Tea tree oil moisturizes your skin very well
Besides oily skin, it is also best for all skin type
Lilium fruit, lemon regular, and menthol shaving cream provide you comfort shave
3. Vetoni Shaving Cream
Vetoni menthol freshness lather shaving cream is formulated to avoid pimples on the face. It also provides you with a comfortable and smooth shave. It is the right selection for you if you want to make your skin healthy and glowing. Some other benefits are mentioned below:
Vetoni shaving cream prevents razor burns and protects your skin against infection
Creamy lather provides you smooth shave at the end
Minimize the risk of redness and irritation
4. Auraa Shaving Cream
Aloe Vera and menthol are the two main ingredients of Auraa shaving cream. If you are shaving for the first time, it is the best choice. It reduces the chances of mistakes during shaving. If you have rough hair, then choose it. Aurra shaving cream softens the rough hair and protects the skin from irritation. Some of the pros of the Aurra shaving cream are mentioned below:
Its transparent structures reduce the risk of any mistake
It protects your skin from burning, irritation, and itching
Its non-foaming gel hydrates the hair
It provides you with the smooth shave
It gives you a fresh and rejuvenated experience
5. VI- John Shaving Cream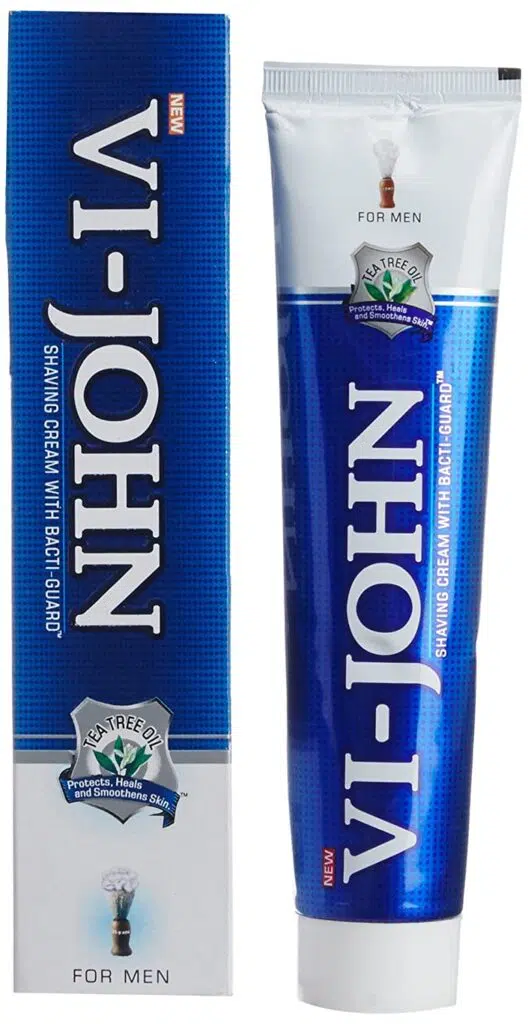 It is specially designed for sensitive skin types. VI-john is one of the trusted brands that gives smooth and clean shaves. Its tea tree oil ingredients nourish your skin and protect it against nicks. There are many other advantages of this shaving cream. A few features are given below:
Protect your skin against bacterial issues
It makes your skin soft
Provide natural glow after shave
Heal the razor cuts and nicks etc
If you have an acne problem, then it is best to choose for this skin
Is Menthol Good For Shaving?
Menthol is a waxy and organic compound getting through mint oils. Many of you are overwhelmed with the question: is menthol good for shaving or not? Here we clarify your thoughts about menthol and shaving.
Everyone wants a cool and pleasant effect when the weather is hot and humid. Menthol is famous for its cooling effect. The anesthetic properties of menthol fight against redness and irritation. So it is entirely safe to use menthol shaving cream. In the end, you will get a good experience of smooth, clean, and comfortable shaves. So, menthol reduces the temporary redness very well.
Tips to Choose The Right Shaving Cream
Before purchasing any menthol shaving cream, one should keep in mind the following points.
1. Ingredients
Must read the portion of ingredients before shopping for shaving cream. Choose the one that is perfectly suitable for your skin type. A good quality shaving cream contains organic ingredients.
2. Choose That is Easy to Use
One should select the shaving cream that is easy to apply to the face. You can apply it with the help of your hands or a shaving brush.
3. Performance
When purchasing the shaving cream, keep in mind the two factors:
These two factors protect your face against many complexities.
4. Cost
It is OK to invest in good shaving cream. Your worthy- investment provides you with a smooth and clean shave.
5. Reviews
Reviews help you to decide whether the shaving cream is good or not.
The Bottom Line
Hopefully, this guide will assist you in making an informed and quick decision about the benefits of menthol shaving cream. It is essential to understand the needs of your skin before purchasing any shaving cream. If you still have any confusion, then comment below. We will guide you in a more specific direction!