Beard and even shaving it make a man's appearance more attractive and appealing. But we all know the dangers of cheap and lousy shaving equipment; a bad razor or shaving cream can cause nicks and cuts, which can later lead to pimples, skin burn, or redness. But how about if you used some of the most expensive shaving razors?
Several different companies are making multiple kinds of shaving razors and shaving creams. In this article, I discuss the most expensive shaving razor and the most expensive shaving cream best for everyone.
---
Most Expensive Shaving Razors
Shaving is a burden for some people, but there are certainly some who love to take a little time to make sure that they are groomed the way they want.
There are multiple types of razors available in the market these days. Each razor has its own distinctive and unique features, the following list contains some of the most expensive shaving razor available in the market:
Hommage Premium Razor
Feather Hi-Stainless Double Edge
Merkur Futur Razor, Chrome Finish, MK-701001
Merkur Futur Razor, Chrome Finish, MK-700002
Wilkinson Sword Quad Blade Razor
Let's take a closer look at each one of them.
---
1. Hommage Premium Razor

The Hommage premium razor is Japanese craftsmanship with a thickness of 0.1mm. The Hommage razors are produced in Japan's city Seki, which is famous for manufacturing Japanese swords.
Premium grade stainless steel is used to make all the metal parts and the handle and stand are made using Resin. This Hommage razor has a wooden texture and offers water resistance to the maximum level. All of these things make this razor genuinely unique in its perspective.
Hommage and Feather exclusively teamed up to make this limited-edition double-edge razor for the safety razor lovers. The razor is also compatible with Feather blades to provide the best experience to its users.
---
2. Feather Hi-Stainless Double Edge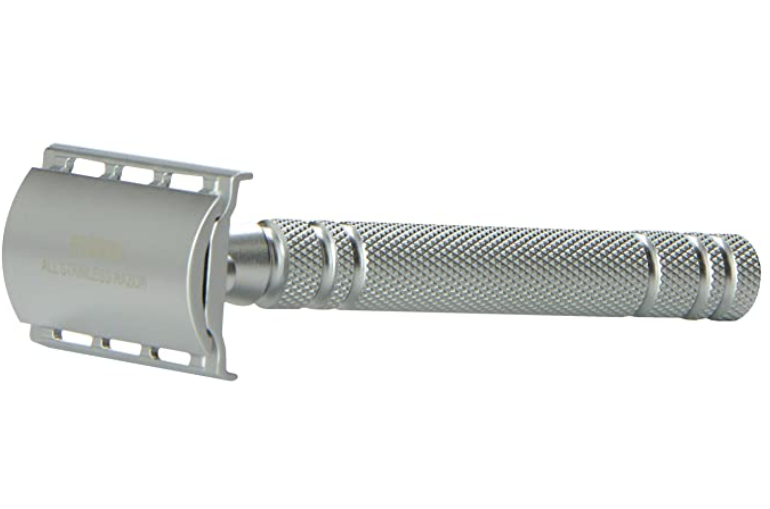 Feather, all stainless-steel safety razor, is genuinely different than your standard safety razor. Feather stainless steel is a double edge razor, which is famous for a possible closer shave.
This feather razor is a high-end piece with a price tag of almost $165. Is this razor worth the money? Well, that's for you to decide. However, Feather razors are famous for their sharpness and quality of the product. Once you get used to it, you might feel good, and it works great even if you have thick hair.
With Feather stainless steel safety razor, you can get pretty close to the closest shave you want. Like every other razor, you will need to change the blade according to your usage to get the proper shave with a feather blade.
A double edge razor can give you a better shave and If you are not using a double edge razor, you might be missing a closer and better shave.
---
3. Merkur Futur Razor, Chrome Finish, MK-701001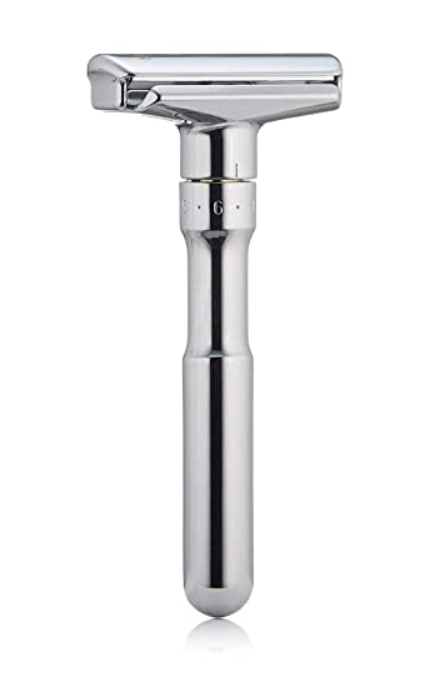 Merkur Futur is one of the many companies making different products with quality and new features to help you get a nice closer shave without cuts and nicks. It does depend on a good razor; however, you will need to be comfortable with the razor and need to know the proper technique.
Merkur Futur safety razor is an adjustable razor with the adjustable setting one to six. This setting will reveal more or less of the blade; this feature provides its user with a variety of more or less aggressive shaving style.
The lower number one means less aggressive, and the higher number six stands for a more aggressive and closer shave.
---
4. Merkur Futur Razor, Brushed Chrome, MK-700002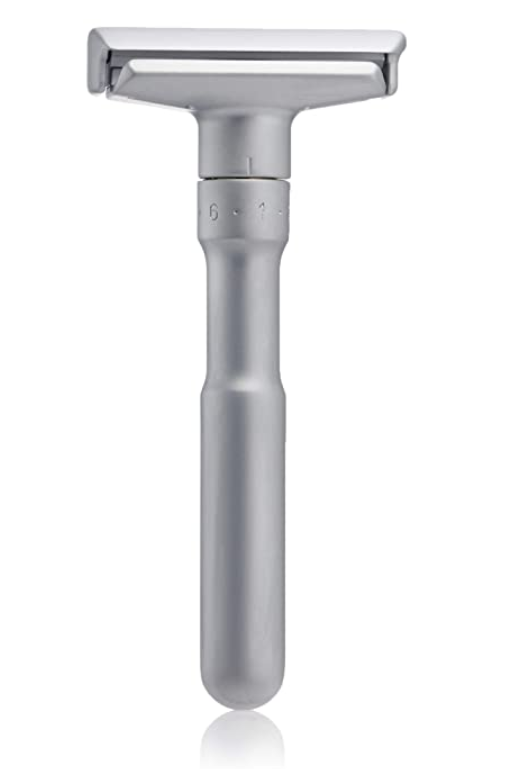 Merkur Futur Razor once again. Merkur Futur Brushed Chrome is one of the best and most expensive shaving razors in the market. The razor itself is lightweight, which gives a sleek, smooth shave.
One of the many things to note before using Merkur Futur; you have to be careful with the blade, you don't want to learn the hard way around.
The Merkur Futur's snap-cap design makes loading blades risky if you are not careful, but straightforward. Make sure to place your thumbs on both sides, avoiding fingers or hand to touch the blade.
The blade gap allows you to fine-tune the closeness of the shave, which means the best shave for your skin type is without redness and irritation. You can also adjust the setting while shaving sensitive areas such as the neck.
---
5. Wilkinson Sword Quad Blade Razor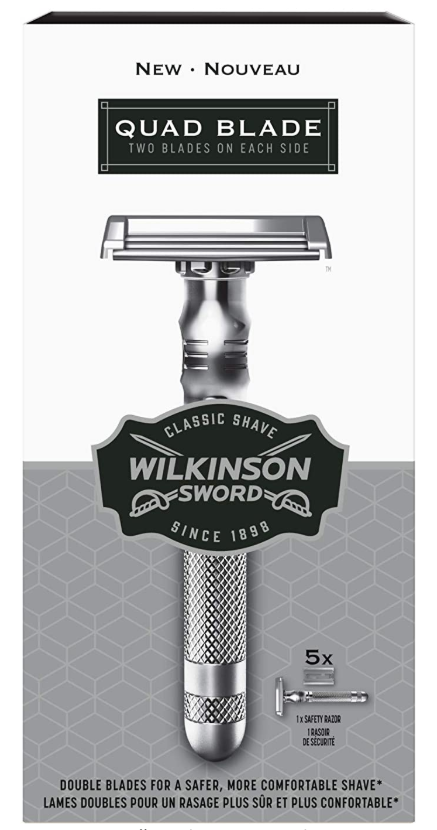 Wilkinson sword quad blade razor is a super hefty razor with sharp blades on both sides. You might feel like this blade won't be good for irritable skin, but you might change your opinion once you get used to it.
The double blades will give you a super clean shave with just one pass. The Sword quad blade razor is the perfect combo between smooth and sharp. The only downside to this sword quad razor is that you have to purchase the blades made to fit this razor individually.
Overall, it's a beautiful safety razor and an excellent addition to your safety razor collection.
---
Most Expensive Straight Razors
Shaving can be an art for some people. That's because they welcome the old-fashioned straight razor which has been underrated for so long. Straight razors are famous for their better and closer shave.
Even with the latest technology and new variety in the market, there are still those who take time for themselves and prefer a straight razor's shave because they believe a straight razor can give the closest shave possible.
A straight razor is also known as barber razor or cutthroat razor, and it's truly making a comeback. Many cartridge razor manufacturers recently reported a drop in sales, which kind of indicates the comeback of straight razors once again.

These are some of the most expensive straight razor available in the market: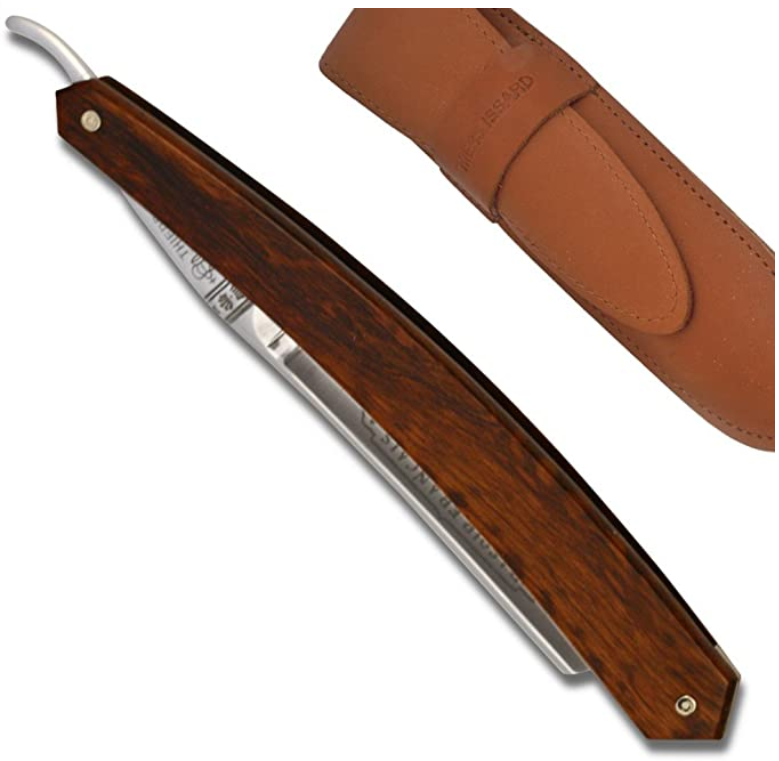 ---
Most Expensive Cartridge Razors
Zaffiro is the most expensive cartridge razor in the World right now. The price of Zaffiro Iridium is about $100,000.
---
1. Zaffiro Razor


Zaffiro, the company, is famous for its most expensive shaving razor, "Zaffiro Iridium." Originally Zaffiro started as a Bright Light Ventures project. In the last eight years, Zaffiro and Bright Light teams worked around the clock with expertise around the world to grow and expand its product line.

Till now, Zaffiro has introduced the following products:
Zaffiro Iridium
Zaffiro Gold
---
2. Zaffiro Iridium

Zaffiro Iridium is the most expensive razor in the world, with a price tag of $100,000. The product is truly spectacular in its perspective.
The razor consists of multiple parts made of pure, most durable, and densest metal on the planet. The razor handle is made of 99.95 percent pure Iridium, the strongest metal on the planet. Iridium is ten times stronger than platinum and mainly derived from the meteorites. Iridium is used in rocket-engine components because of its purity and extreme durability.
The hexagonal screws of this razor are custom made. The razor's screws are 99.95 percent pure platinum.
Zaffiro also provides servicing, professional cleaning, and resharpening when necessary to provide its Iridium customer the most beneficial and unique experience when it comes to shaving. The maximum time limit to benefit from servicing, professional cleaning, and resharpening is twenty years.
---
3. Zaffiro Gold

The most valuable and advanced materials are used in the making of Zaffiro Gold, which makes this razor one of the most expensive shaving razors. An expert goldsmith handcrafts the centerpiece of this razor with solid 18K gold. Each component is specially built and designed for its users.
The blades of Zaffiro Gold are made of solid white sapphire. Zaffiro offers four years of servicing, professional cleaning, and new cartridges if required for Zaffiro Gold customers. All of this servicing is to provide its user with a truly fantastic experience with the razor.
---
4. Most Expensive Wet Shave Razors
Almost every adult needs a good wet shave to improve his personality. To do that, you need to focus on the two components of the wet shave razor: the handle and the blade.
Now, men who shave every day know the need for a new blade after some shaves to get the possible closest shave.
Not changing the blade after a couple of weeks can cause nick and cuts as the blades can become blunt. In case if you do not shave daily, then your blade should last a little while longer.
Most of the companies provide multiple blades in a new pack, the new blade can give you a better closer shave, but the technique also matters. The following wet shave razors can give you a proper shave you need:
Gillette Gillettelabs
Dorco Classic Razor
---
1. Gillette Gillettelabs
Gillette Gillettelabs' heated razor might deceive you with its design. It might seem like every other Gillette razor, but in reality, it's one of the best and most expensive Gillette razors.
As you already have guessed by the name Heated Razor, the Gillettelabs provide a warm sensation while shaving. This heated feature in Gillettelabs gives you a barbershop experience at home with a wet, closer shave.
The price tag on this product might seem a bit higher, but with the heated feature and heating options (43 and 50 degrees), some might find the price satisfying.
---
2. Dorco Classic Razor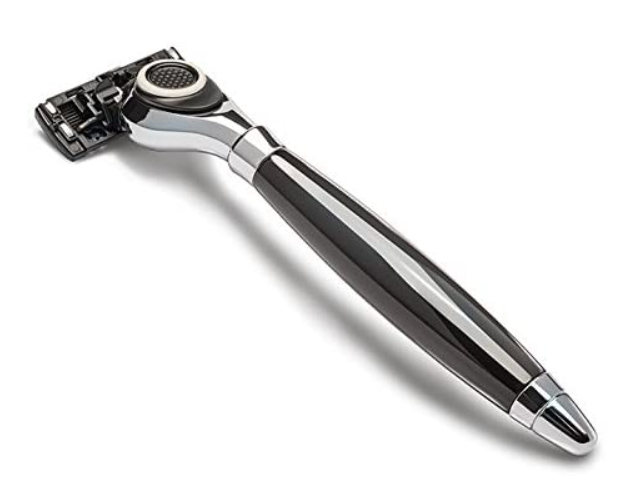 Dorco comes with the handle and seven blades in the pack to help you get a wet closer shave. Dorco Razor comes with an argan oil lubricating strip to prevent dry skin, skin rash, and irritation.
With its new and unique feature, Dorco might be the wet shaving razor you are looking for.
---
5. Most Expensive Shaving Cream
A lot of factors go into getting a good shave, like a sharp razor and applying really smooth strokes. There is also another component that you will require to achieve your purpose, a good shaving cream. There are plenty of shaving cream brands in the market today, some thick and lather well or some being thin and lightweight.
Although one may think that all shaving creams are the same, they are not. A good shaving cream will hydrate the skin well and soften hair at the same time making it easier to use a razor for gliding along the skin surface.
A generous amount of rich cream is the solution for smooth, bump-less shaving. One of the best skincare secrets out there, Acqua Di Parma shaving cream, an Italian masterpiece, has not changed its scent since its creation in 1916.  Its fragrance still remains the same, fresh and natural. 
With its original contents of pomegranate, Sicilian citrus, and basil, Acqua Di Parma's high grade shaving cream is still a number one choice for those who are looking to maintain or improve their grooming rituals. The brand's cover label still makes it a very attractive addition to any hygiene cabinet collection. Aside from its beautiful scent, this cream is full of hyaluronic acid which prevents razor burns and redness.
Because shaving is an interaction between the blade, the skin and hair, you will still need to aim for fresh smooth looking skin. You will need the best product on the market that works, and nothing will do a better job at it than Acqua Di Parma.
Shaving cream is part of shaving equipment. When it comes to grooming, making a poor choice is nothing more than wasting money. No matter how good is your razor, you will always need shaving cream.
There are several alternatives to shaving cream. But today we will check out the most expensive shaving creams:
Musgo Real Spiced Citrus Shaving Cream.
Proraso Shaving Cream.
---
1. Musgo Real Spiced Citrus Shaving Cream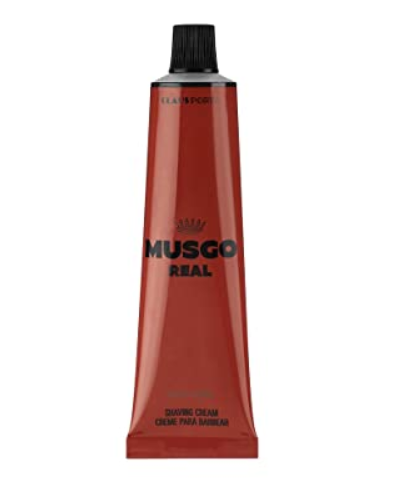 Musgo is a Portugal based shaving cream company and has been around since 1887 with its truly amazing products.
Musgo's combination of lanolin and glycerin creates a fantastic moisturizing effect, which makes shaving much more relaxed, faster, and closer than any other cream in the market without compromising the quality of the shave.
Patchouli is the secret of its fantastic fragrance, a herb from the mint family, which is famous for being used in medicine and perfumes. Patchouli will make you feel a cooling down sensation during shave and aftershave.
Musgo uses alcohol in its products, which can be a problem for those with sensitive skin. However, no individuals with sensitive skin reported suck issues.
---
2. Proraso Shaving Cream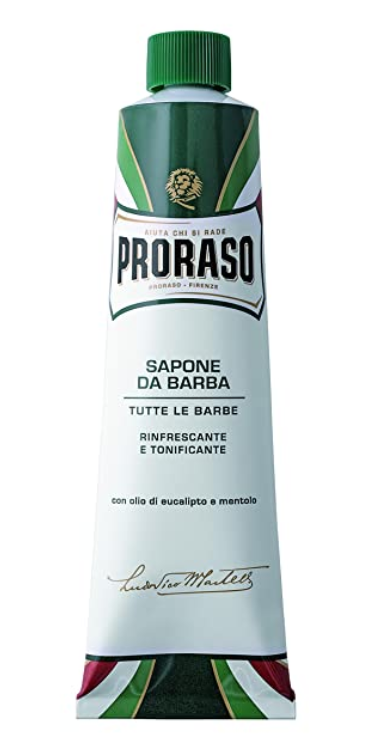 Proraso, this shaving cream brand, comes from Italy, has about 100 years old history of its products. It is considered to be the oldest cosmetic industry. With its unique technique, which has been passed down generation after generation, Proraso is deemed unbeaten when it comes to shaving cream.
Proraso shaving cream has ingredients like eucalyptus, glycerin, and menthol, which creates a refreshing sensation on the skin, which lasts before and aftershave.
Even with the use of eucalyptus and menthol, Proraso shaving cream doesn't smell like medicine; in fact, it has a subtle scent, which gives the feeling of barbershop.
---
Conclusion – Most Expensive Shaving Razors
The razors mentioned above are some of the most expensive shaving razors to provide you with an idea of different shaving equipment.
Proper shaving equipment can give you a better shave, but the conditions still apply. For example, you need to have the experience, and you are ready to take some time to shave properly. A shave can either make you look charming or like a fool. A lousy shave or a shave you do in a hurry can cause redness, irritation, skin burn, or nicks and cuts, which can later cause pimples.