Beards have never been out of trend since the beginning of time. But when it comes to "hairstyles", men only think of the hair on top of their heads. The facial hair and the haircut are the two basics of style equation and to complete this equation, because hairstyle with beard complements each other. Your creativity and style can be seen in the way your hairstyle and beard complement each other.
There is no point in taking care of your beard if you are not taking care of your hair growing on your head. Your face is a frame made by mother nature that reflects your personality.
There are several elements to consider when pairing haircuts and beards. You have to consider hair type, beard growth ability, comparative lengths, and other factors that can make or break a haircut-beard pairing. It sounds complicated, right?
When making a perfect duo of your beard and hairstyle, there are several factors that you should keep in your mind, for example, Beard growth, beard size, and length, beard volume, etc. But it's not as complicated as it may sounds.
You might think the combination of hairstyle and beard you have or you're thinking to have right now is the only style that'll suit you. But I bet you will change your opinion after reading the following possible combinations I am presenting to you.
Also Read: Best Men's Shaving Kits
---
1. Man Bun
Well, Man Bun is the best hairstyle with long beard. The hair bun is made at the back of the head. The beard and man bun make a unified whole. You will see many athletes, artists, and fashionistas with a combination of man bun and beard. It is the most obvious duo on the list since the man bun was designed to complement the facial hair. The beard and the bun balance each other.
However, a small beard might not go well with a man bun, usually a thick and long beard complement each other well, but it depends on your facial features and the texture of your hair. It is the best choice of hairstyle with a long beard.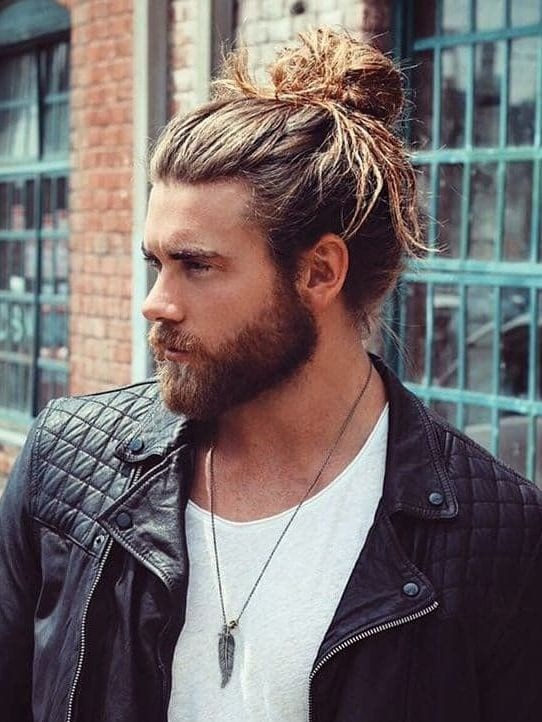 ---
2. Slicked Back Undercut
It is the most common undercut hairstyle with beard. If you have ever searched for the inspirational or stylish Haircuts, you might know about the undercut hairstyle. This is one of the best hairstyles with a beard and to be honest it goes well without a beard as well.
However, to make a perfect blend, remember to match the length of your undercut and your beard. Your undercut should give you a balanced and smooth look, so use the same number of clippers for your beard that you used for your haircut. The haircut and beard should create a unison by complementing each other. Some people go for a fade with this pair. But you should consider the growth of your facial fair before considering a fade.
If your beard hair growth fades at some point in your face, a fade is not a good option to opt. However if your facial hair taper naturally and gradually, fade is a good choice. I believe what matters most is the way you shave your facial hair.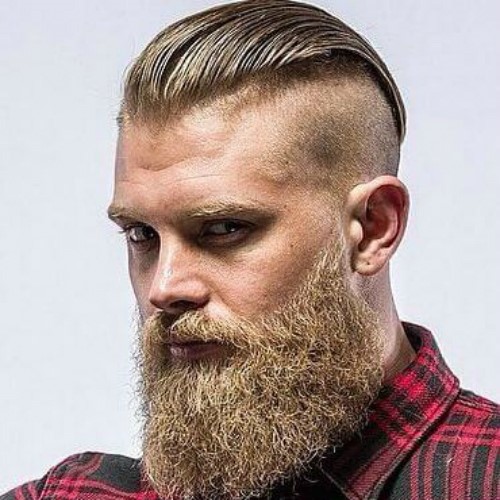 ---
3. Shaggy hair
If you are searching for a style that will need minimal time for maintenance and styling, this is the right option for you. Having a shaggy hair might seem a bit messy. But having a beard has been the top choice of people who want to give a devilish, rebellious, mysterious, or artistic look. Contrasting beard with shaggy hair is the best combination if you want bead of any of the stated reasons.
It will give you the confidence and rebellious look that you are aiming for. Well with shaggy hair, you don't need to shape your beard daily, in fact, an uneven beard will comprehend your look with shaggy hair.
However, if you think your beard is getting out of your hands, you can give it a quick trim but I suggest that you proudly carry your uneven beard to give a carefree look. You can also add layers to give volume to your messy hair. This is a striking hairstyle with a long beard.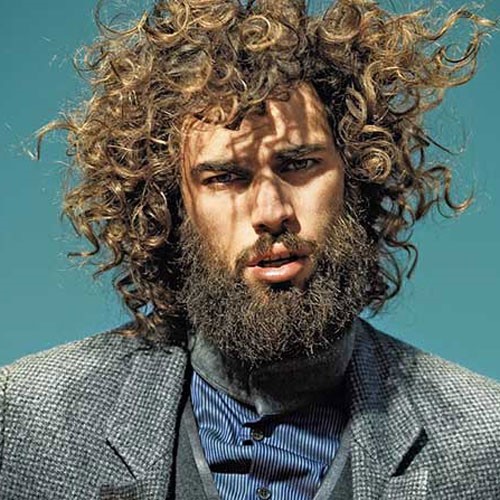 ---
4. Side Swept
If you dare to try unique hairstyles to look sexy and vulnerable, this is the right choice of hairstyle with beard. This is the most adventurous hairstyle among others and I prefer you to have it with a bigger beard that is thick preferably. A unique combination of gnarly bread and side-swept with completely change your style.
This combo requires very good styling sense as your hairstyle and your beard should have the same direction of flow. You can have side-swept with an undercut as well. Remember one thing that this style is not for office-going people, though you become an attention grabber still it is definitely not a professional look. You can consider this look more of a jazz look.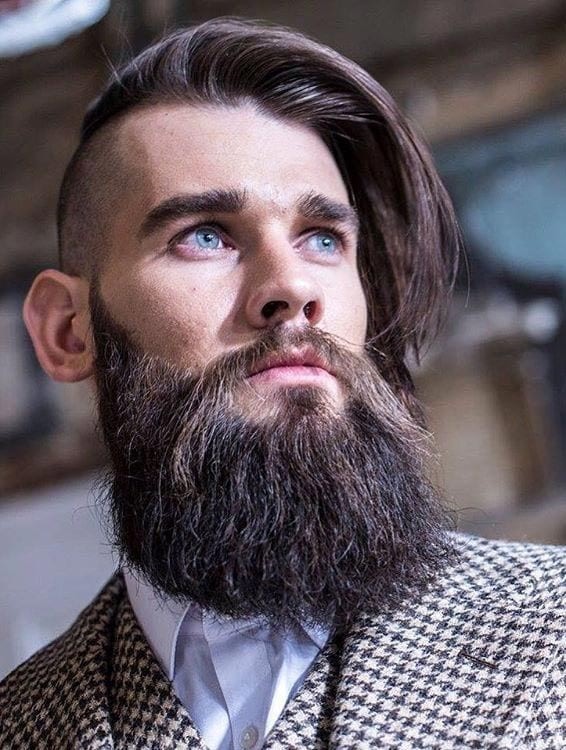 ---
5. Side Part
If you want to try side-swept but couldn't do it because you need a hairstyle with beard that is appropriate in various situations, the side part is the choice. The side part has been in style with beard for centuries and has been an epitome of classy men.
This hairstyle with beard is most popular as you can carry it both formally and casually. You can go to the office, parties, grocery, cinema, or concert and you will stand out the crowd. You need to combine a neat and smooth side combing of your hair.
The side part can work with any size of the beard so it is the most convenient choice for men. The biggest advantage of this hairstyle is that if you ever want to go clean-shave, you can do it in a minute without thinking of ruining your style.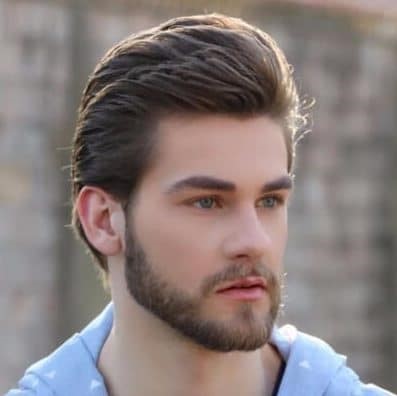 ---
6. Bald
Well, you might be thinking about how baldness is a hairstyle. But we are discussing all the possible options that will look good with your beard. A combination of bald head and beard is one of the manliest and bad-ass looks you can have.
Beard kind of balances out the baldness and gives an amazing look. Some willingly go bald while some people fight baldness for years and feel complex about it. Well, I suggest to get bald and grow a beard and you'll look more stylish than ever.
And another thing, you can have any beard you want to and you'll look amazing. You can go for French-beard, uneven beard, long beard, short beard, etc.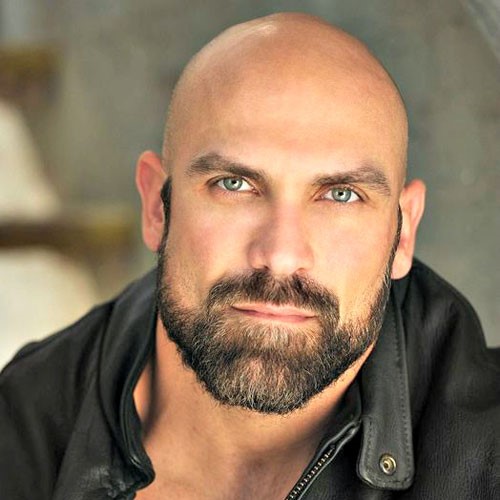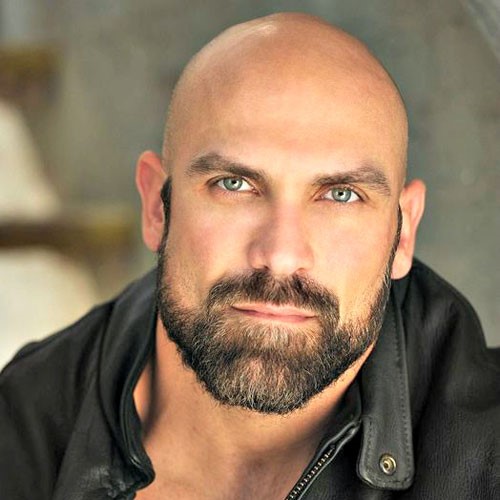 ---
7. Tidy Quiff
This hairstyle is not easy to carry but it is for people who love their hair and are conscious about their style. A tidy quiff is all you need to become a woman-magnet.
This style needs a little bit of styling but if you are ready to style your hair, a tidy quiff is the answer to all your questions. However, a good volume tidy quiff goes best with small or medium-sized beards. To pull off this look you have to keep your beard tidy too.
An even beard is a key to have a perfect combination. This is for those who don't have speedy growth of their facial hair and want to keep a short beard. To have a tidy quiff you need to have a good growth of your hair.
You can also go for side fades, whatever style you adopt, this is one of the most stylish and classy short hairstyles with beard.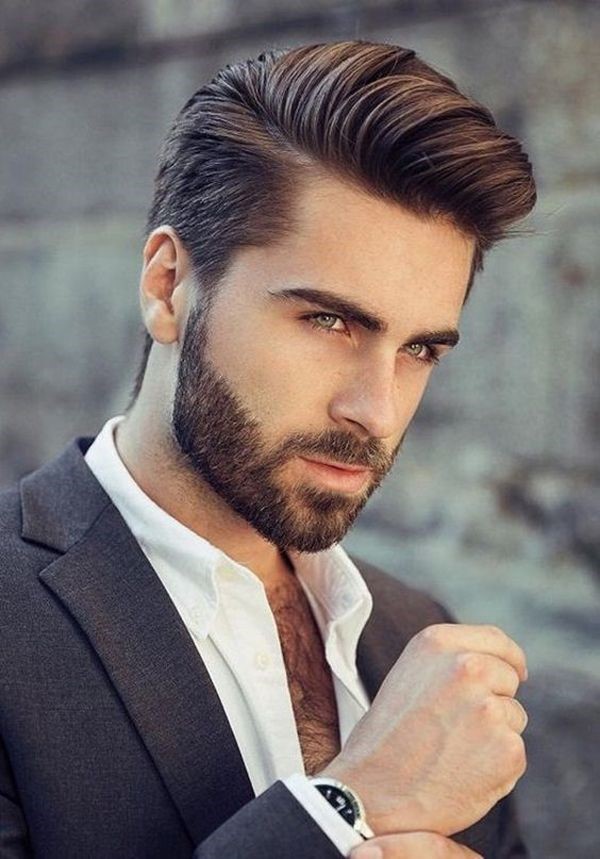 ---
8. Side Swept Undercut with Beard
If you are looking for a hairstyle with long beard, a side-swept undercut is one of the best choices. This will give you a striking look. Side Swept Undercut not only goes with a beard but it is also a good hairstyle with a mustache as well. This undercut hairstyle with mustache and beard is a perfect combination to look amazingly manly.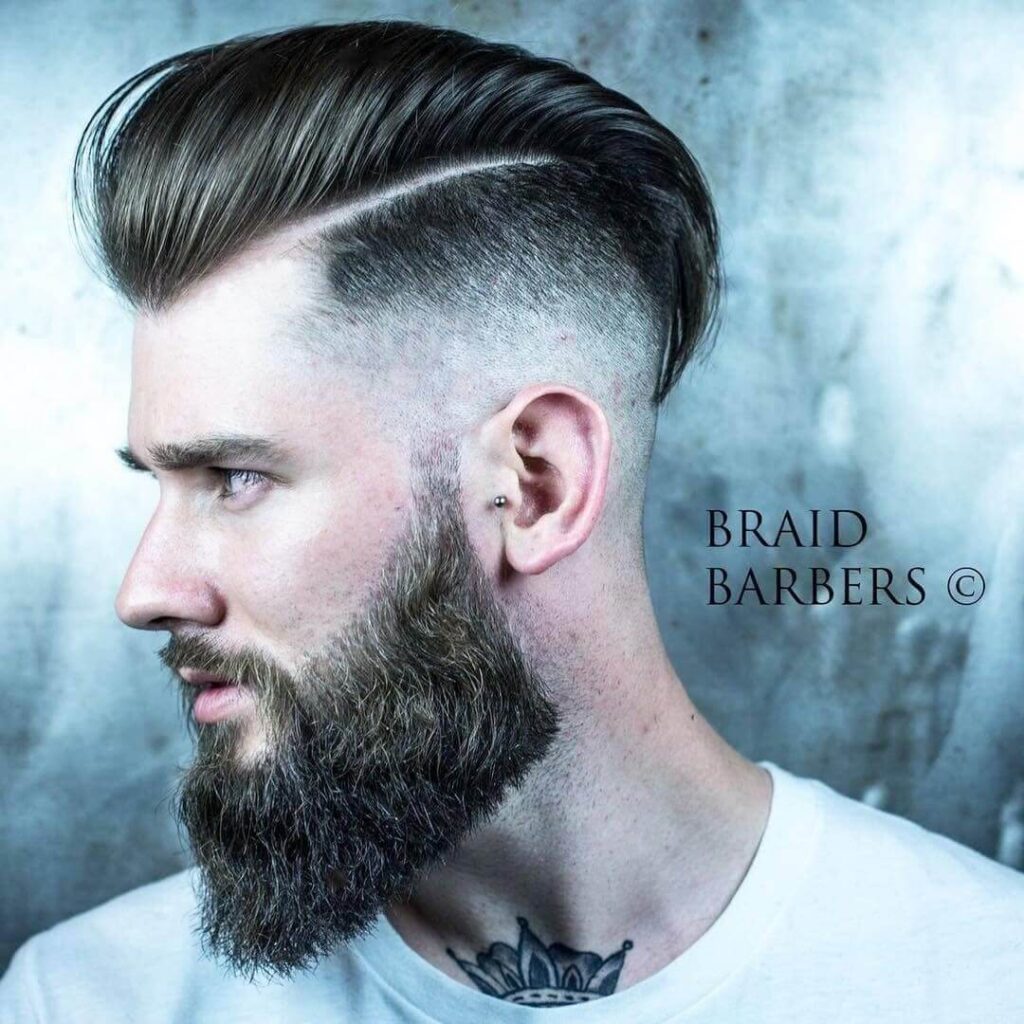 ---
9. Pushed Back Slight Wave Texture
Another short hairstyle with a beard goes very well if you are looking for a professional, classy appearance. A well-groomed and neat beard will go perfectly with this. It needs low maintenance and elegant combination.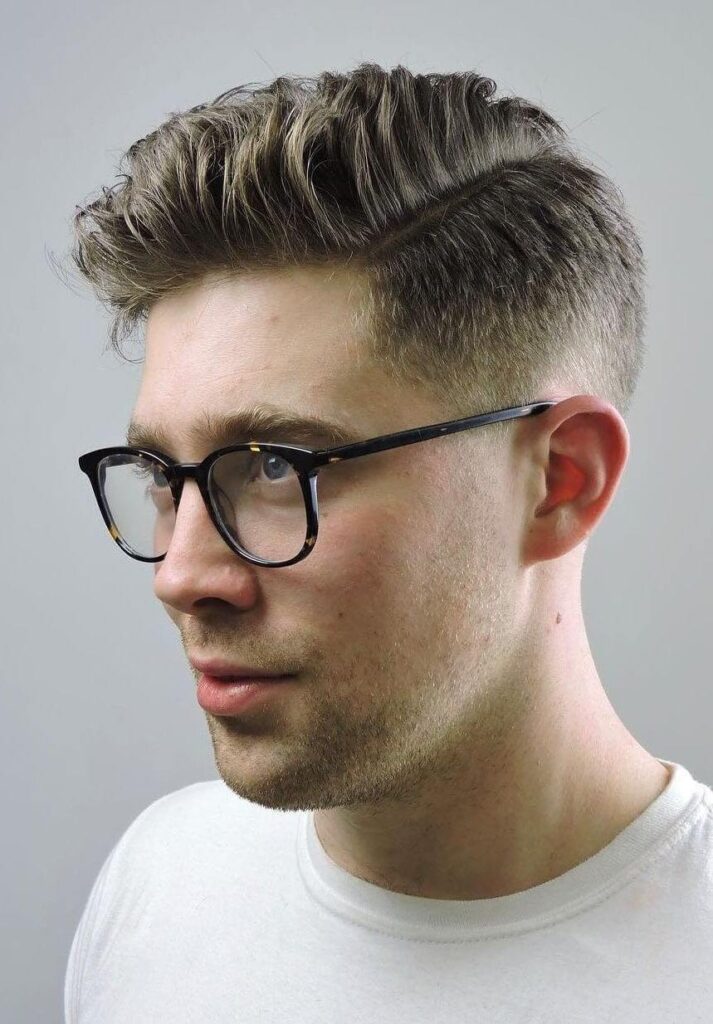 ---
10. Top Knot
Another hairstyle with long beard which will never lose its significance. The top knot is hair tied back on top of the head. Top Knot works with almost all kinds of beards whether thick, small or long.
But we suggest that you go for at least 4 to 6-week growth of your facial hair to get a medium-sized beard which will definitely compliment your top knot more. A medium-size beard is my suggestion for top knot hairstyle.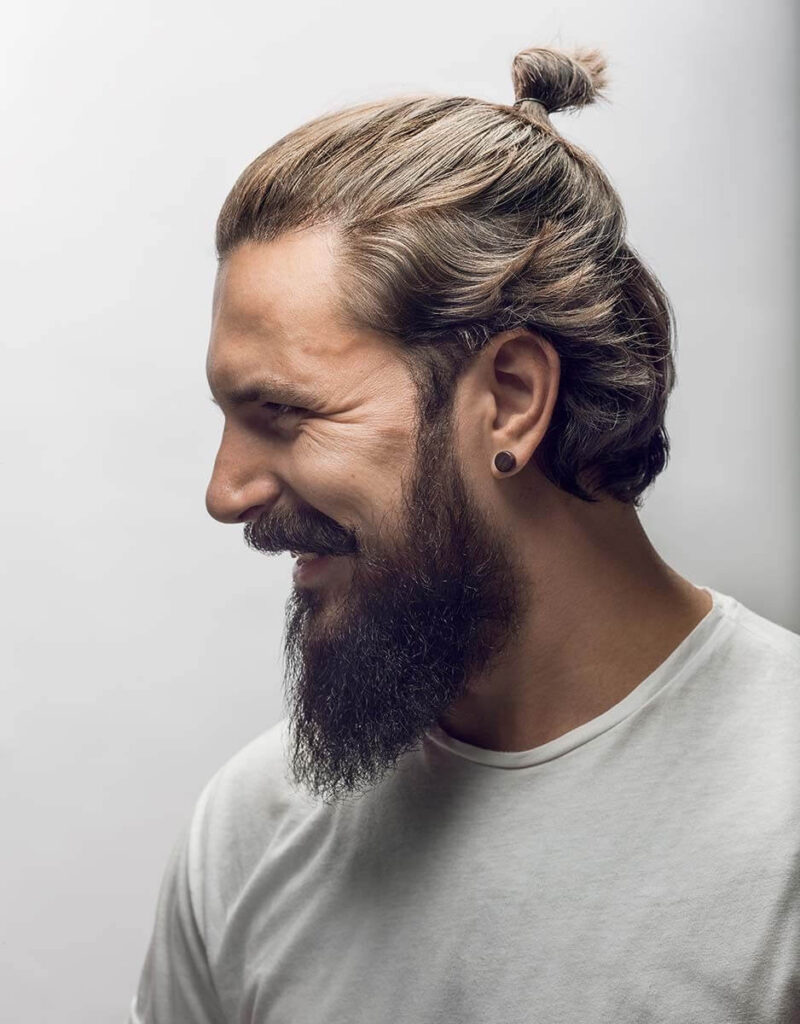 ---
11. Combed Side Part
A great short hairstyle with beard can work wonders without much effort. It is one of the most versatile combinations and never gets old.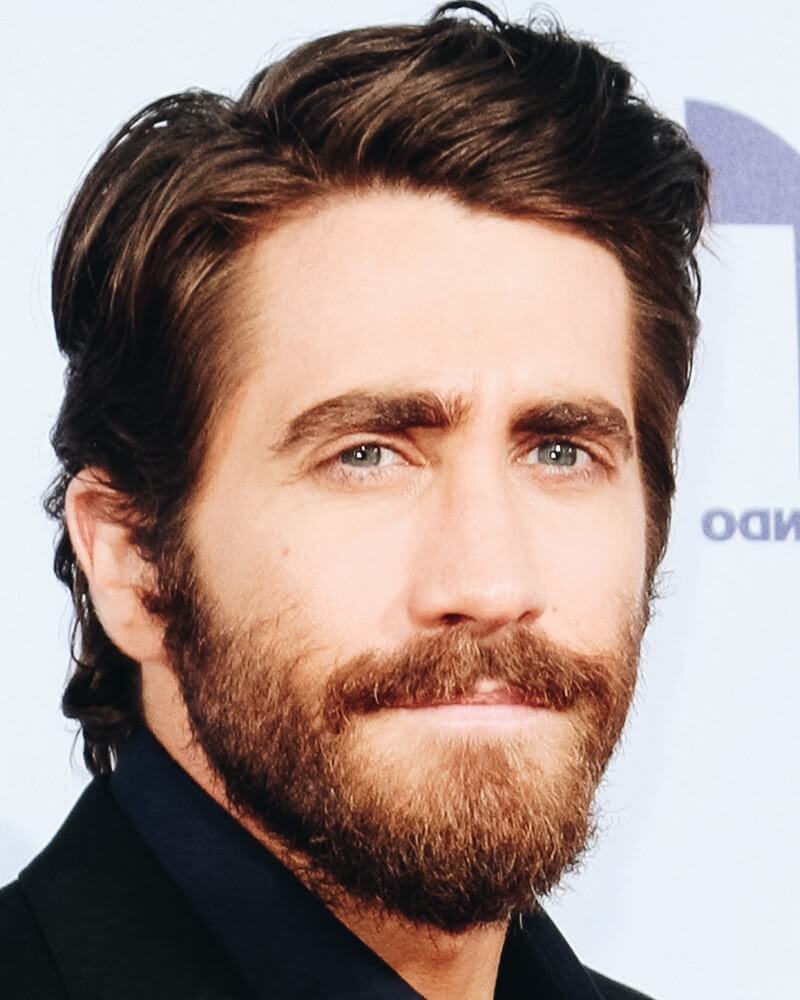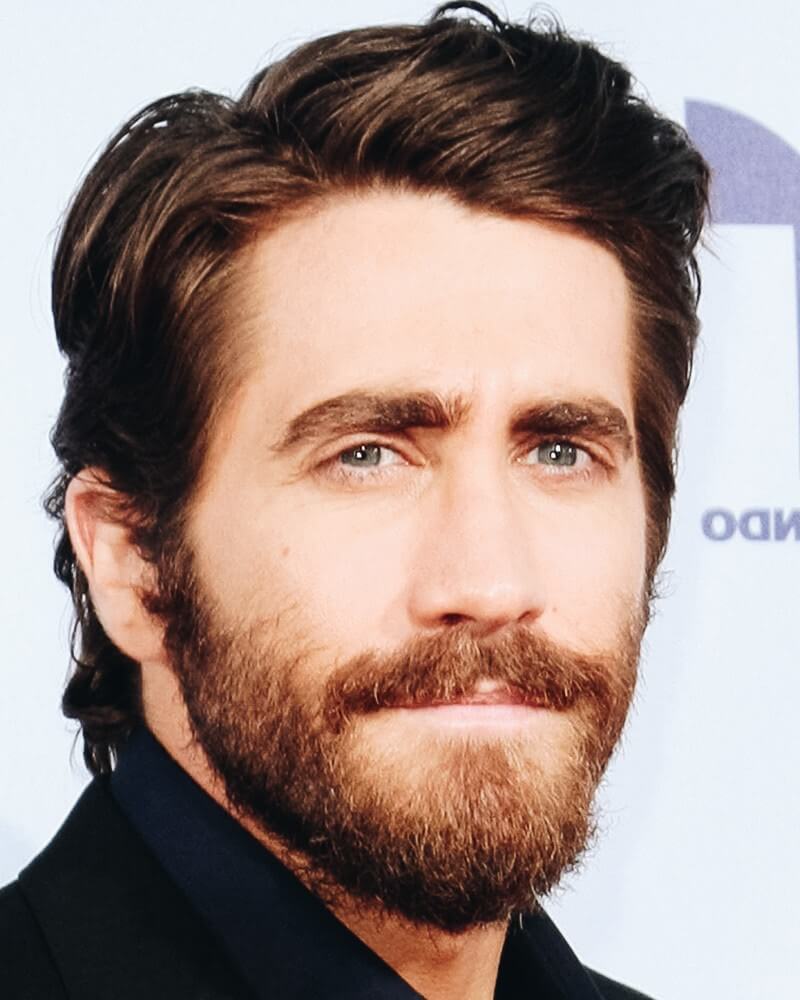 ---
12. Shades of Blonde
Going blonde is the best hairstyle with a goatee. This haircut might sound hippie but it goes best with rough texture hair. It adds motion and dimension to the wavy hair. Blonde is the ideal color to add various contrasts with beards.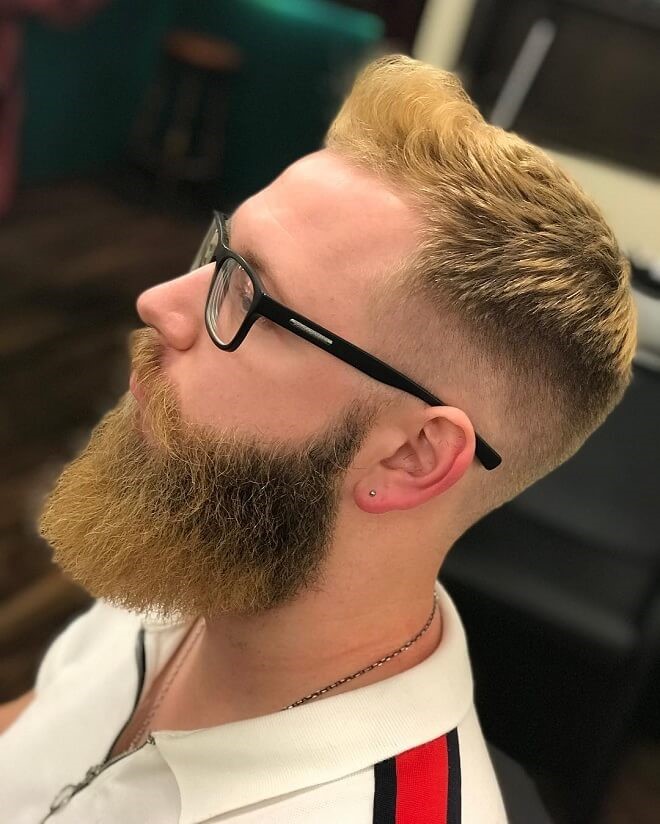 ---
13. Textured Quiff and Handle Bar Mustache
This is the most stylish hairstyle with Beard and Mustache. The Handle Bar Mustache can completely change your look and a textured quiff along with it will make you look classy and mysterious. Well, this style is not for everybody, old folks usually carry this style well, younger ones might not find it good.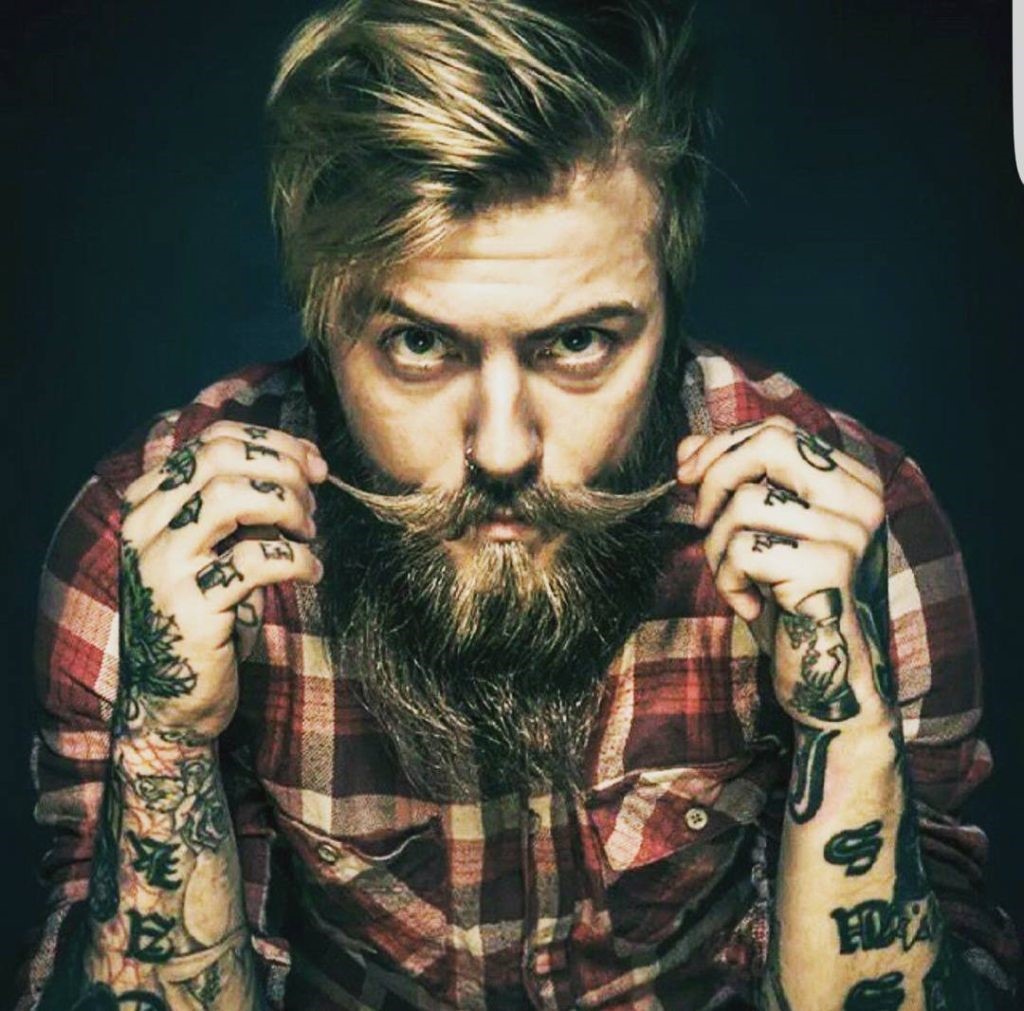 ---
14. Viking Haircut
The edgy hairstyle will make you look like a Nordic warrior. Viking hairstyle and beard encompass many types of styles and cuts including a ponytail, mohawk, undercut, shaved sides, or back. It is a classic hairstyle with beard and will make you look like a historic king or warrior. I suggest you opt for a long beard to carry this style in the best way possible.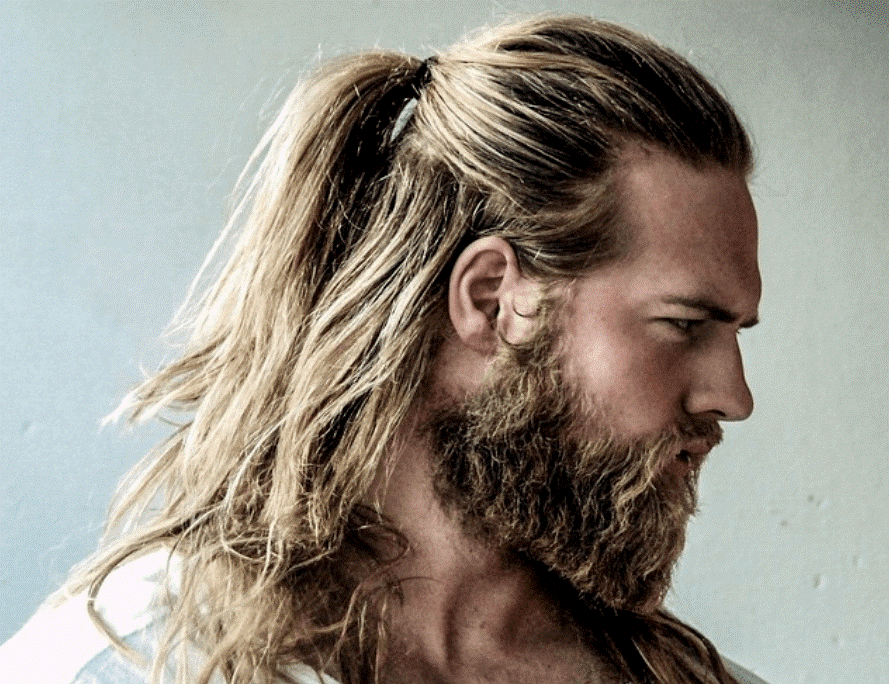 ---
15. Stubble Natural Short at The Back and Sides
This hairstyle with moustache and a medium beard is a sizzling combination. The style got lost for decades and was popular in the 70s and 80s but it has made an appearance in 2020 and is getting popular. Mustache was getting out of trend as well but it is again on the cards of style.
This short hairstyle with a beard is perfect for almost every situation. You'll have to match the length of your facial hair with this style to get a perfect look.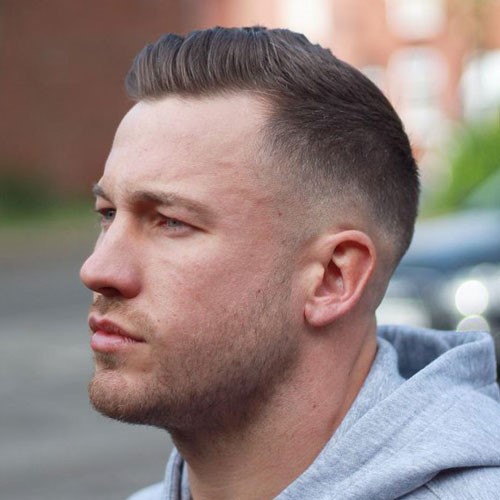 ---
16. Razor Fade
Though you may think of it as a hipster look, this is one of the best to keep short hair with long beard. A razor fade goes really well with a boxing bear and makes a facial balance. A thick and specifically box beard makes your jaw prominent and helps balance the faded part on your head.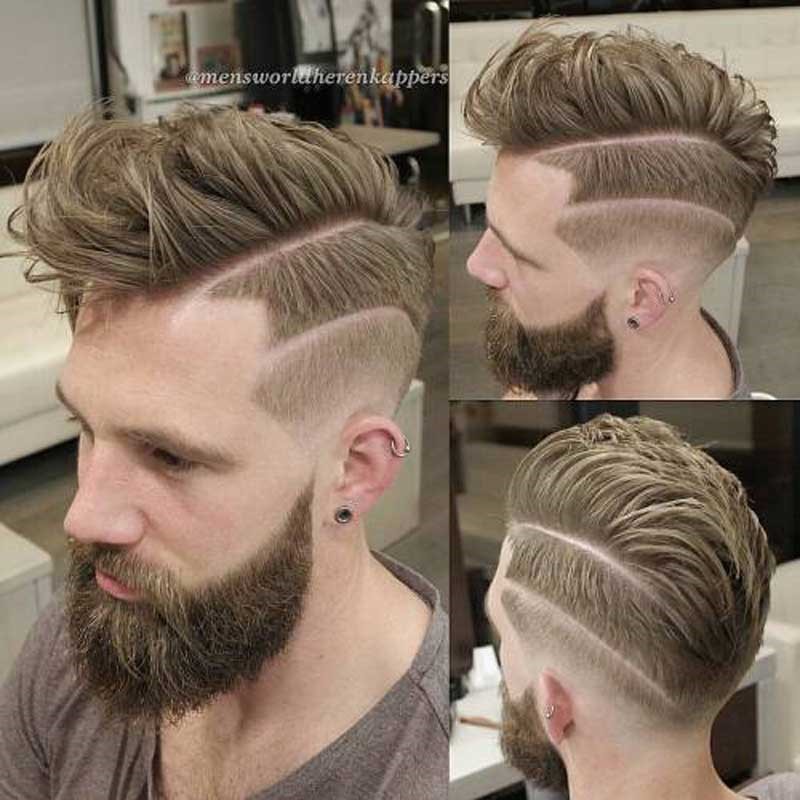 ---
17. Buzz Cut with Natural Beard
If you want to keep a long natural beard you need to get a buzz cut right now. This will help you spare more time on your beard and less time on your hair. The biggest advantage of this haircut is that you don't need to regularly shave your beard and also you don't need to overspend on hair products. It gives you the look of a man you don't want to mess with.
If you want to make your beard a more prominent feature and you will have to focus and maintain it.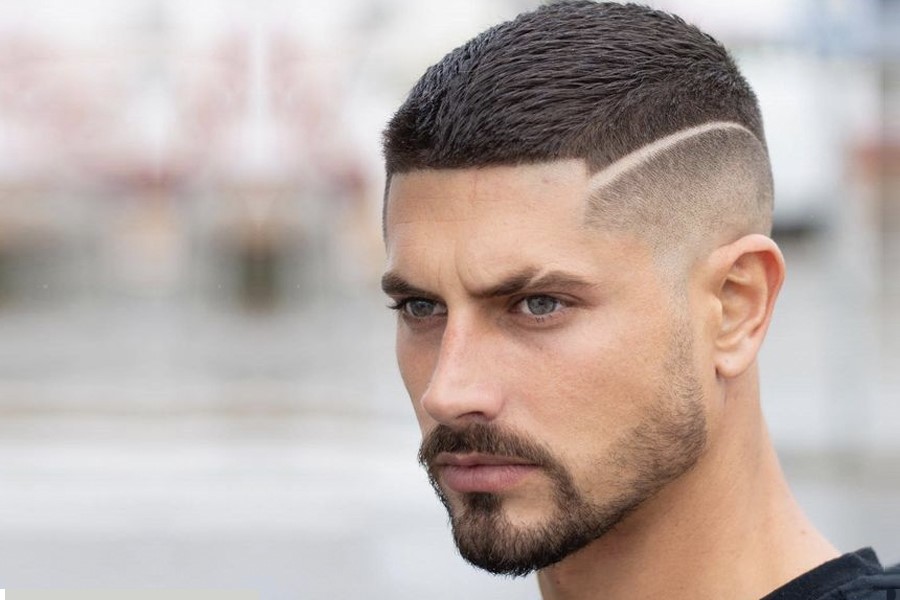 ---
18. Short Sides
This look is perfect if you want a professional appearance. You can have Short Back Cuff Beard with it to look like a responsible person and a person with organizational skills. But don't think that it is just a professional look, it is a style you can carry anywhere. Whether it be parties, your first date, or family holidays, you will have a perfectly sober look.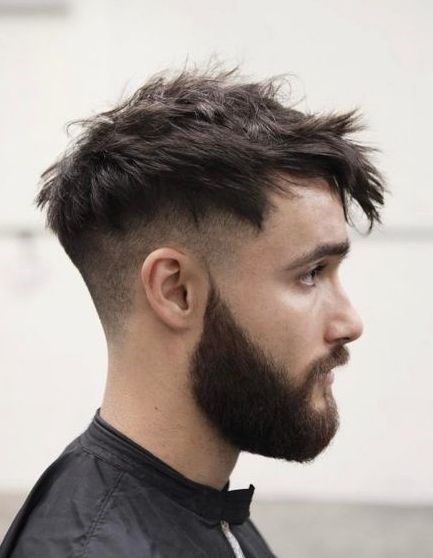 Hope you liked the above-mentioned stylish hairstyles with beard. If you 're thinking to try any of the above styles but you are confused, I suggest you should give it a try and it might turn out well more than your expectation! You just need to understand your features and your hair to decide a perfect look!