Safety razors have definitely proved to be an excellent alternative to the cartridge and disposable razors as they not only provide a quality shave but are also not harmful to the environment. However, the only question that is stuck with it from the very beginning is how many shaves does a safety razor last? The concern is very much understood and if you are also looking to get some answers to your queries like "when should I change my safety razor blade?" you are exactly at the right place.
Safety blades are basically designed in a way that they can last longer, however, the blades when used quite many times naturally lose their sharpness and start becoming dull. The dullness of the razor can make you apply pressure to the blade while shaving which can result in cuts and kicks on your face.
You definitely don't want it and I know how desperately you want to know how often should you change your safety razor blade and how do you know if a razor is dull? Hold your horses because we have it all covered for you in this article.
---
When Should I Change My Safety Razor Blade?
This one is to answer your query of how often should you change your razor blade and how many shaves does a safety razor's last query. This completely depends on how many times you decide to shave in a week.
If you shave just twice a week, it is recommended to change your razor after every two or three weeks.
If you shave on alternative days, change your razor after one or two weeks.
If you shave on daily basis, the razor will become dull quickly and it is highly recommended to change your razor every week so you don't get cuts on your face.
On average a man who decides to shave every day will have to change the razor every week which means the safety razor lasts for around 6 or 7 shaves and not more. This is just a rough guide to answer your query of when should I change my safety razor blade as there are a lot of other factors like the type of hair, hair growth, and how you shave in particular which also affects the durability of a safety razor.
---
What happens if you don't change your Razor?
Your concern of knowing what happens if you don't change your razor is definitely understandable because there are some risk factors connected to it that you must know and change your razor blade accordingly. After answering your query of "how often should you change your razor blade" let's now know about what may happen when you don't change your razor blade:
Using an old razor will take more time and effort and still, you will get a shave that is not satisfactory.
The risk of getting razor bumps on your skin gets high which may in result turn out to cause pain and scarring.
Your razor gets filled with grime such as dead skin cells, bacteria, hair crops, and shaving cream.
You will have to apply more pressure with each stroke so you are more likely to nick your skin.
Maybe you don't get to see cuts on your skin but it doesn't mean they aren't there. You will get microscopic tears and bacteria on your skin which in return may cause irritation and increase the chance of infection.
---
How do you know if a razor is dull?
While I've tried my best to answer all your queries like when should I change my safety razor blade and what happens if you don't change your razor, there is one more thing that you need to clear your concept for. Here are few points that will easily make you understand how do you know if your razor is dull.
The older and dull razors start tugging and pulling your skin and don't glide easily.
The dull razors start to develop rust and this is when you know it's time to say good-bye to this particular razor.
You will still have some hair left post-shave as the dull razor won't do the job as good and perfect as the new one.
---
Top 10 Safety Razor Blades
If I were you, I would have definitely wanted to know the recommendations of the top best safety razors to use after known when should I change my safety razor blade and how many shaves do a safety razor lasts. Therefore, I've gathered the list of the best safety razor options for you along with their links to make your selection process easier.
1. King C. Gillette Double Edge Safety Razor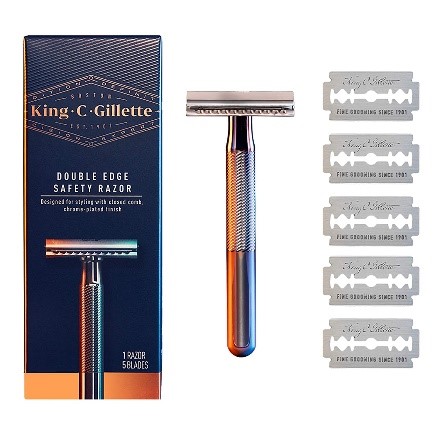 Coming with a 5 pack of platinum-coated refills and a chrome coated handle, this safety razor is specifically designed for long-lasting durability. A double-edged safety razor is specifically designed to help you give your perfect beard look with strong beard lines. Additionally, the blades are platinum-coated stainless steel which helps you in shaping with accuracy.
---
2. Edwin Jagger Double Edge Safety Razor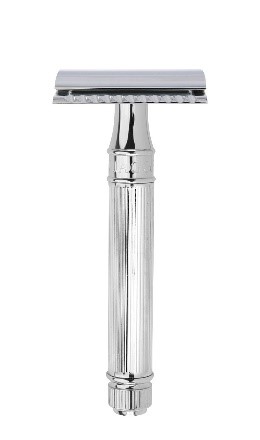 Having the comfortable balance and weight for close and accurate shaving, this safety razor is specifically designed for people having sensitive skin. It is designed in a way that makes shaving super easier for the new and experienced shavers. The handle is made of chrome with a lined pattern which makes it easier to handle even with wet hands. It comes with free 5 pack blades which makes the use of the razor quite long and the replacement super easy and budget-friendly.
---
3. Merkur Progress Safety razor Blade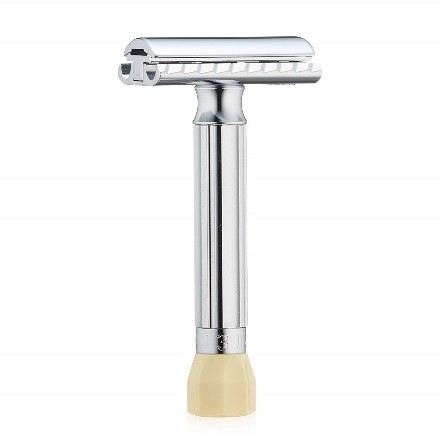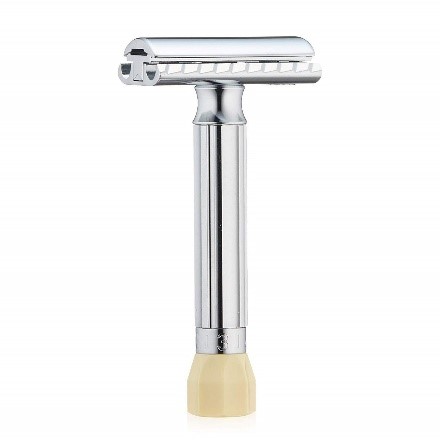 A uniquely designed safety razor blade that allows you to adjust and control the gap between the blades so you can enjoy an accurate and close shave. This makes it different from many multi-edge razors because of the best shave it has to offer without giving you irritation on your skin. The company also guarantees a long-lasting duration of the razors so you don't have to invest in buying some for yourself again and again. Additionally, it comes with a standard handle with an adjustment knob so you can easily adjust and have a fine-tune closeness shaving.
---
4. LEYMIGA Butterfly Open Double Edge Safety razor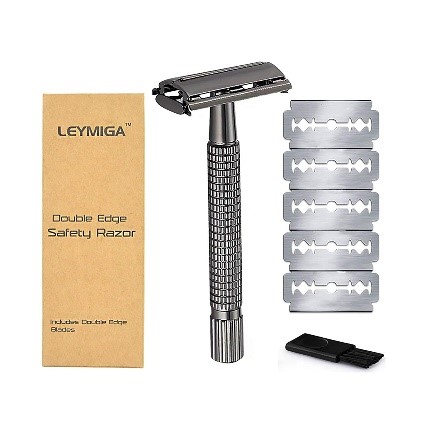 A safety razor that will ease the blade changing process because of its twist open butterfly structure. You can now easily and quickly change the blades within few seconds. The company guarantees no rusting and durability because of the superior coating and quality metal materials that are used to make this safety razor. It guarantees zero waste as all the double edge razors have avoided unnecessary use of plastic making it one of the eco-friendly options out there. Additionally, it comes in a kit that contains 5 premium blades, one double edge razor, and one cleaning brush.
---
5. WEISHI Nostalgic Long Handle Double Edge Safety razor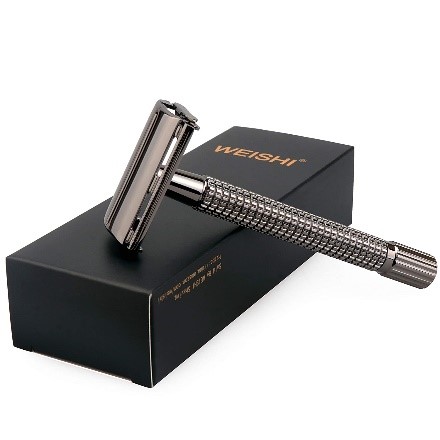 Absolutely light in weight and easy to handle, this razor comes in a package that contains 5 stainless blades, one double edge long handle razor, and instructions to use the razor properly. The packaging is so beautiful that not only can you buy this to use yourself but also you can gift it to someone on any occasion you want to. The butterfly construction makes the blade changing process easier and cost-friendly and assures that the blades are long-lasting and durable.
---
6. Dorco Pace 4 Pro – Four Blade Razor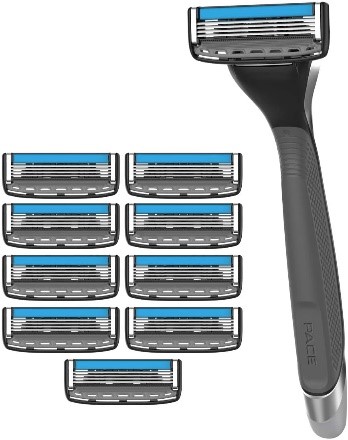 Guaranteeing a classic kind of comfort during shaving, this razor comes with four ultra-shaped blades that ensure a smooth and easy shave every day. It is one of the dermatologically tested razors that guarantees to provide the soothing and care your skin needs because of the Vitamin E and Aloe Vera lubrication strip. Additionally, it provides an enormous grip that allows superior performance and optimal control of the razor while you are shaving even when the skin is wet. The blades are positioned together so that there is less gap for the skin to bulge between them and hence lesser risk of cuts and kicks.
---
7. Vikings Blade the Chieftan Double Edge razor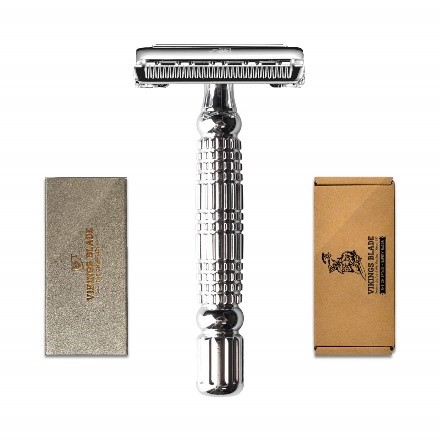 Having a heavy-duty construction and butterfly design, this razor is specifically designed to provide a smooth and easy shave with zero irritation and rashes. Because of the supreme design and unique weight distribution, it offers amazing balance and smooth and easier performance while shaving. The company guarantees that this razor is 150% smoother and also very much eco-friendly as compared to the competitors in the market. High-end material metals are used for their construction so the razor lasts longer and becomes cost-effective for the buyers.
---
8. The Art of Shaving Safety razor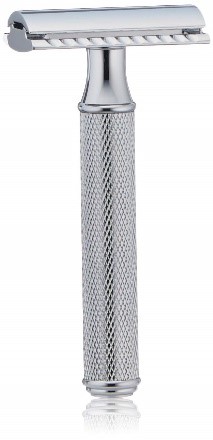 Having extremely lightweight and unique dimensions, this razor is your go-to option if you have difficulty holding razors with your wet hands. The handle is chrome plated along with a textured grip that guarantees to ease the process of gripping the razor while shaving. Additionally, with its purchase, you will get five single blades along with the one safety razor that it comes with. Not only this, it helps to resist rust and works quite well even in a wet environment.
---
9. Muhle Hexagon Graphite Safety razor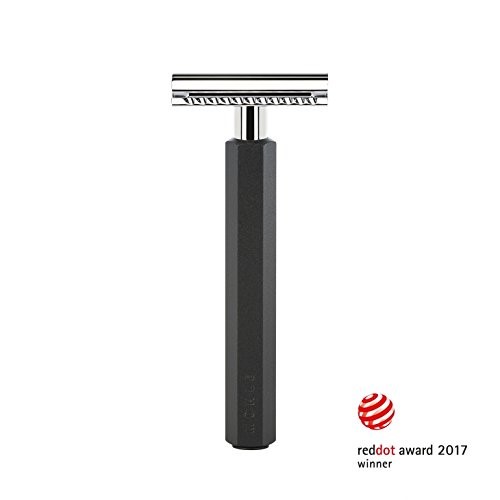 Comes with a closed tooth comb which is specifically designed for the closest shave possible. The handle has a combination of tradition and contemporary design which ensures easy and smooth gripping, functionality and ergonomics. It also allows you to apply the razor on the skin without any pressure which makes the possibility of getting cuts absolutely minimum. The product has no plastic used and comes without any cartridges making it one of the most environmentally friendly razor options out there in the market. It can even shave your edges with precision to give you that perfect beard look that you want.
---
10. Bambaw bamboo Double Edge Safety razor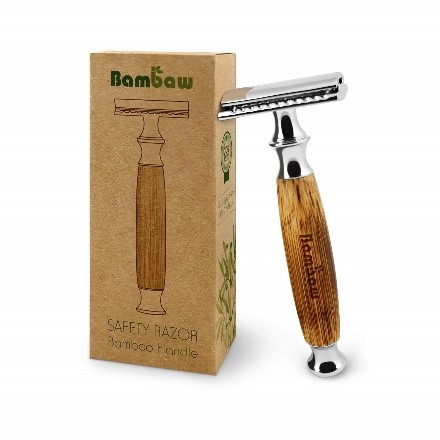 Without the hassle of getting irritation or redness on your skin, now you can achieve a perfect close and irritation-free shave with this double edge razor. The razors come with a lifetime of guarantee because they are made of high-quality metals and 100% stainless steel parts which make the razor extremely durable and strong through many uses.
It also helps to create a cleaner planet because, with this razor, all you got to do is replace the blades and not the razors so they don't end up in our landfills or oceans. Additionally, this feature makes it cost-effective because once you get the hold of a razor, all you need to buy is blades and you are good to go. The package comes with a user manual that includes all the major instructions like getting the perfect shave, the aftershave treatment, how to assemble, and everything that you will want to know.
---
When Should I Change my Safety Razor Blade? – Conclusion
Shaving is a regular task that most men have to do to have their perfect looks. However, you don't only need to perfect the art of shaving but also know all the essential to have knowledge about how do you know if your razor is dull and all the razor related questions like "how often should you change your safety razor blade?"
This article contains all your queries and also the best safety razors that you can get your hand on for the perfect and close shaving that you are looking for. What happens if you don't change your razor, you ask? Well, you invite all the bacteria and rust on your razor to cause infection on your skin. So don't get lazy when it comes to changing your razors because you definitely don't want to have cuts and kicks on your skin along with the irritation they cause.